Sponsored content
Cheap flight tickets for your summer holiday
---
This article is more than 1 year old.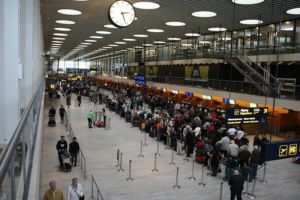 Have you booked flight tickets for your summer holiday? Do you want to fly the cheapest way? – You can get good advice about finding cheap flights here.
Unfortunately, there is no fixed formula that tells you exactly when to travel, when to book, where to travel to and from and so on. But luckily, you can often save money if you know a few tricks. You get some of them here.
The tricks are given by the price comparison site Travelmarket.dk, which has been recommended by the Danish Consumer Council TÆNK.
Summer holidays = High season
When it comes to travel in high season, it is most often the case that prices just go up and up the longer you closer you get to your departure date. With the summer holiday is just around the corner, the best advice is to buy your flights as soon as possible. If you can travel in august, it might be an idea to wait a little longer.
Monitor air fares with price agents
If you already know where you want to travel and on what dates, it is a good idea to set up a price agent. With a price agent, you get a daily email with the price of your flight ticket. At Travelmarket, you can set up as many price agents as you want, keeping an eye on prices for multiple flights.
Check prices from several departure airports
Some people will say that this trick is only worth using if you live in Jutland or Funen but it can of course be used by all. There can be a lot of money to be saved by seeking departure from different airports.
Sometimes flights from Aalborg are cheaper than from Billund, sometimes Hamburg is cheapest, and a few times it pays to take the train from Copenhagen to Jutland to save money on the flights.
At Travelmarket you can search for prices from several different airports in one search.
Move the flight a few days and save money
Sometimes it can be a lot of money to save on moving the flight a few days, and maybe take a vacation for 6 or 9 days instead of 7.
The price differences occurs because some airlines only fly on selected days + that some dates are more popular and thus more expensive.
When you have searched for a flight ticket on Travelmarket.dk, you can unfold a price calendar at the top of the screen and see prices on other days. This feature is worth using.
Always use a price comparison service like Travelmarket.dk
No matter where you are going and when you are going to travel, it is good to use a price comparison service like Travelmarket.dk.
At Travelmarket.dk we compare prices from many different travel agencies and airlines, and thus help you find the cheapest price.
At Travelmarket, our main goal to find the cheapest airline tickets for our users, and we therefore also provide a price guarantee on airline tickets.
For that reason, you can safely use Travelmarket.dk when you need to find your plane tickets for the summer holidays.