Things to do
On Screens in June • Disclaimer: This preview is based on unverified facts
---
This article is more than 1 year old.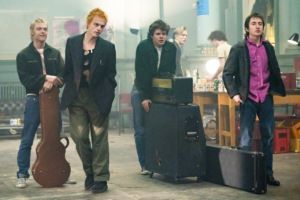 Olivia de Havilland was the plain one in Gone with the Wind, so it felt like a mis-cast when Catherine Zeta Jones was selected to play her 62-year-old self in Feud, a depiction of the fierce rivalry between her sister, Joan Crawford, and Bette Davis. That's right up there with Charlize Theron playing Aileen Wuornos.
And yet De Havilland launched a lawsuit. Apparently she objected to the screenwriters putting the word 'bitch' into her mouth (despite her using it in a 1946 blooper) and threw in using her likeness (which would have required a much plainer actress) for good measure. Fortunately a court in California ruled that no person can "own history" and the Supreme Court then declined to hear the case.
De Havilland was 101 at the time – presumably the screenwriters thought she'd kick the bucket before Feud was aired.
Proper pistol whipping
Clearly, De Havilland isn't the only one, and despite the disclaimers these 'dramatisations of certain facts and events' post at the beginning of every episode, there's a nagging fear a court one day is going to get it badly wrong and effectively outlaw real person depictions forever.
Former LA Lakers player and coach Jerry West has vowed to take the makers of Winning Time: The Rise of the Lakers Dynasty to the Supreme Court if he needs to; Georgian chess player Nona Gaprindashvili is suing the makers of The Queen's Gambit over a single line of dialogue; the nasty lawyer in When They See Us sued Netflix for implying she was racist … or was it just because Felicity Huffman portrayed her. Anyhow, the list is a long one.
And now you can add John Lydon (aka Johnny Rotten of the Sex Pistols), who is kicking up a storm about Pistol (TBC on Disney+; worldwide release May 31), a miniseries about the punk band, which is entirely directed by Danny Boyle. Last year, Lydon lost a high court case against his two former band members, who took legal action after he refused to allow the series to use the band's music. It left him broke, which explains why he recently played a gig in Norwich! Meanwhile, the series is "a middle class fantasy that bears little resemblance to the truth", in his opinion. Sadly the trailer would appear to suggest he's right.
The horrific and prolific
Alex Garland should have a grievance with Boyle as well, as the British director had the first flop of his career with his adaptation of The Beach – a must-read of the 1990s that seems so prescient given our current smartphone addiction. But Garland was actually involved, as he drew the map the main character gives to some fellow American tourists. He's even listed as the cartographer in the credits.
Garland has since developed into a talented director himself. Who knows, maybe he'll one day make the classic film his book deserves – there's been talk in the past, and even the possibility of a miniseries prequel. But in the meantime, we'll have to make do with Men (June 2; 66 on Metacritic), a horror about a woman (Jessie Buckley) dealing with grief in an English countryside where every single man looks like Rory Kinnear.
A better bet for frights might be child abduction thriller The Black Phone (June 23; 79). Ethan Hawke, once cinema's nicest guy, enjoys yet another villainous role – critics concur that the mix of realism and supernaturalism is just right, and that the final third of the film really delivers.
But avoid The Elevator Game (June 30). Why a Danish distributor has picked the film up is anyone's guess. Weirdly, it is one of almost 40 films starring Julia's brother Eric released last year. On IMDB, he has a world record 673 credits. That's more than the Rank Films drummer.
It's now or never, Austin!
So sorry Elevator, but the big cinematic release of the month is Elvis (June 23; Not Released Worldwide) directed by Baz Luhrmann. Some 159 minutes long, an awful lot is pinned on the shoulders of Austin Butler and his ability to sing, pelvic thrust and age like The King. Elvis may have only been 42 when he died, but he looked like he was 60+, so it's a daunting task. But Butler was preferred to Ansel Elgort (West Side Story, Tokyo Vice), Miles Teller and Harry Styles, so he must have the chops. And there's always Tom Hanks (manager Colonel Tom Parker) to lean on, should he need the support.
Tim Allen needs his Toy Story stable-mate's shoulder to cry on, as he lost the lead role to Chris Evans in Lightyear (June 16; NRW), a cartoon you might struggle to find an English-language version of. No such danger for any of the originals in Jurassic World 3: Dominion (June 9; NRW) because the whole gang's here – but can they save this dinosaur of a franchise?
A better bet is Red Rocket (June 2; 76), the latest offering from Sean Baker, the director of The Florida Project. Again, it looks like he's made a film of incredible insight into the human condition. But if it's introspection you're after, try hypnotic sonic odyssey Memoria (June 30; 91) with Tilda Swinton – a film that absolutely merits the big screen.
For laughs opt for The Phantom of the Open (June 30; 65) starring Mark Rylance as Maurice Flitcroft, the amateur golfer who entered British Open qualifying on multiple occasions, much to the chagrin of the sport's snobbing attitude. They tried to bar him from playing, but he kept on coming back in disguise.
Adam Sandler has been trying to do that of late: some might call it proper acting, as opposed to the lameness that typified his career in the 2000s. Hustle (June 8 on Netflix), the talent of a scout who discovers a hot NBA prospect in Spain, is his latest passable effort, following on from the excellent Uncut Gems.
Also of interest on the streaming services are a remake of The Father of Bride (June 17 on HBO Max) with Andy Garcia and Gloria Estefan, Jerry & Marge Go Large (June 18), a screwball true story comedy about cheating the lottery with Bryan Cranston and Annette Benning, and Good Luck to You, Leo Grande (June 18), a comedy starring Emma Thompson as an orgasm-deprived woman who visits a gigolo to satisfy her sexual bucket list.
Hanoi Jane loves a lawsuit
Television-wise, it was difficult to confirm the June line-ups ahead of going to press, so it's hard to know whether acclaimed BBC drama This is going to hurt (June 3; 93) starring Ben Wishaw as a NHS doctor, promising Tudor romp Becoming Elizabeth (June 13) or Jeff Bridges' small screen debut The Old Man (June 17) will be released.
Failing that, meta series Irma Vep (June 7 on HBO Max) with Alicia Vikander, Melissa McCarthy comedy God's Favourite Idiot (June 16 on Netflix), British miniseries The Tower (May 31 on HBO Max) with Gemma Whelan, and superhero series Ms Marvel (June 9 on Disney +) all have potential.
While the returning series include Swedish comedy Love & Anarchy (S2; June 17), Peaky Blinders (final season; June 11) and The Umbrella Academy (S3; June 22) on Netflix; The Chi (S5; June 27) and Westworld (S4; June 27) on HBO Max; Physical (S2; June 4) and For All Mankind (S3; June 11) on Apple; and Only Murders in the Building (S2; June 29) on Disney+.
Talking about disclaimers, alternate history series For All Mankind begins with the Apollo 11 landings ending in failure. I guess they had to wait for Neil Armstrong to die before they could start filming. Likewise Physical had to wait for Jane Fonda … I fear a lawsuit's coming.