News
City Hall majority says proposed Metro expansion is worth the hefty price tag
---
This article is more than 1 year old.
The upcoming metro line from Refshaleøen to Lynetteholm could be expanded to serve new areas in Islands Brygge and Amagerbrogade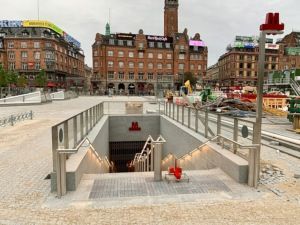 Copenhagen City Hall is considering a further expansion to the city's Metro.  
The parties behind the agreement on Lynetteholm – the artificial island district planned to be built in the Port of Copenhagen – will investigate whether the upcoming line connecting Lynetteholm to Refshaleøen can be expanded to provide greater metro access across Amager.
By shifting the upcoming metro line southward, the proposed route would bring the metro to new parts of the city, according to a press release from the city's finance administration.
The proposed expansion is backed by the parties in the conciliation circle behind Lynetteholm: Socialdemokratiet, Konservative, Venstre, Radikale, Socialistisk Folkeparti, Dansk Folkeparti and Liberal Alliance.  
Twice as expensive
With nine stations (see map below), the newly proposed route is more than twice the length of the one currently in the state's infrastructure plan, which contains four.
With an estimated price of 13.7 billion kroner, it's also more than twice as expensive.
The new line would run from Central Station to Amagerbrogade via Bryggebroen and DR Byen, and then continue on through Refshaleøen and Kløverparken, before finally reaching Lynetteholm.  
Lord mayor of Copenhagen Municipality, Sophie Hæstorp Andersen, said that improved metro access is sorely needed on Amager.
" … the new Metro connection to Refshaleøen and Lynetteholm should not only serve the new urban development areas with good public transport – it should also strengthen public transport, so Copenhagen becomes more equal, more united, and greener," said Andersen.
READ ALSO: Nordhavn Metro link extension a step closer
A "black hole' in the metro network
The proposed line has also been praised for its potential to bring greater connectivity to Indre Nørrebro and Rigshospitalet.
The current lack of metro service at Rigshospitalet represents "a black hole" in the metro network, contends Jens-Kristian Lütken, mayor of employment and integration.
The public consultation phase of development will begin in September, giving residents the opportunity to share their opinion on the new line and the location of the individual stations.
However, the ultimate decision will not be made until 2025, and the new line is not scheduled to be operational until 2035.