News
Business Round-Up: Inflation at its highest in decades
---
This article is more than 1 year old.
The prime minister has acknowledged the difficulties brought by inflation, and the Danish government has also signed new agreements with organizations representing the country's regions and municipalities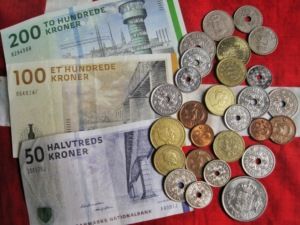 Inflation has reached its highest level since 1983. In May, prices were 7.4 percent higher than they were at the same time last year, according to new figures from Danmarks Statistik.
The price of goods, in particular, has increased dramatically. Since last year, the price of commodities in this category – which includes gas, electricity and food – has risen by 11.4 percent. The price of services has risen by 3.2 percent.
Jeppe Juul Borre, the chief economist at Arbejdernes Landsbank, said that current price increases correspond to an ordinary family having to spend an extra 32,000 kroner a year just to maintain their normal consumption, speaking to TV2.
Rising prices not confined to Denmark
Danish PM Mette Frederiksen, speaking to the Danish Parliament, has expressed concern on behalf of the country's consumers.
"There will be Danes who find it increasingly difficult to get their personal finances to stick together," she said.
Las Olsen, the chief economist at Danske Bansk, noted in an interview with TV2 that rising prices are not just a Danish phenomenon. In fact, prices are rising across most of the world.
Decline in inflation projected
A number of economists have predicted that the inflation will "evaporate" come autumn. By the end of 2022, for example, Arbejdernes Landsbank projects that inflation will decrease to around 4.5 percent, falling further to around 3 percent in 2023.
Still, with the European Central Bank usually targeting a 2 percent inflation rate, and with that number usually being even lower in Denmark, Danes may be tightening their belts for a while yet.
---
Danish Regions dissatisfied with new agreement
The government and the Danish Regions have reached a new agreement for spending in 2023. The agreement has allocated an extra 1 billion kroner for the regions' health expenditure and 3 billion kroner for the renovation of old hospitals. Danish Regions had hoped for more, describing the deal as a "very tight agreement" and saying there is "no reason for cheers".
Investment in municipalities down from last year
The government and Kommunernes Landsforening, an interest organisation for Denmark's 98 municipalities, have signed an agreement setting the conditions for the local authorities' finances next year. The agreement has allocated a total of 18.5 billion kroner, which is 1.4 billion less than in 2022. Some 1 billion has been earmarked for green investments, as well as compensation for various additional expenses.
Rise in housing prices not what it seems
Taking into account standard seasonal fluctuations in the housing market, housing prices fell by 0.5 percent in May. In raw numbers, housing prices have increased by 0.1 percent. The prices of condominiums rose by 1 percent, an uptick of 0.6 percent when accounting for market fluctuations. The figures, which come from the Boligsiden real estate agency, may indicate that the housing market is being affected by hikes in mortgage rates and society-wide price increases.
Danish bakery chain losing money, tells customers not to worry
The Danish bakery chain Lagkagehuset, which has been consistently losing money over the past 4.5 years since a change of ownership, has made a loss of 89.4 million Danish kroner for 2021. Lagkagehuset's management said the losses were disappointing but acceptable considering market conditions brought about by the pandemic, with its CEO noting that revenue exceeded operational costs by 140 million kroner.
Danish companies making their way back to Ukraine
Danish companies have gradually begun to reopen in Ukraine. Out of the 86 stores that Jysk has in the country, for example, more than 70 stores are open at the moment. The Danish companies Livatek, Akkerman and Onsite Company have also reopened stores in Ukraine, saying it is necessary to maintain jobs in the war-torn country. Jysk has said it will not open stores in Russian territory again.
Another streaming service stops production in Denmark
The streaming service Viaplay has joined TV2 Play and Netflix in halting its production of Danish content. The decision is in response to the rights agreement made between the Producers' Association and Create Danmark in January, which is intended to guarantee artists pay on an ongoing basis rather than with a lump sum.
Danish central bank warns of vulnerability in the housing market
Danmarks Nationalbank has voiced its concern that Danish homeowners are increasingly opting for variable-rate and installment-free loans, saying that the trend makes the Danish economy more vulnerable to a fall in house prices. The bank has recommended that political efforts be made to curb the issuance of these types of loans.
Emissoins increasing at cement factory run by Aalborg Portland
CO2 emissions from the Aalborg Portland cement factory have apparently increased in the period from 2019 to 2021. Michael Lundgaard Thomsen, the CEO of Aalborg Portland, said to Jyllands-Posten that the figures must be verified by the Danish Energy Agency, and he further stated that the increased emissions are likely a result of increased construction activity. Aalborg Portland has a goal of reducing CO2 emissions by 30 percent by 2030; as part of a recently implemented tax agreement, the company will be required to pay a 100 kroner for every tonne of CO2 emitted over its allowance.
More skilled laborers needed to meet Denmark's green energy goals
Denmark's green transition may soon be slowed down by a lack of skilled labour. According to the industry association Green Power Denmark, there is a need for around 45,000 full-time positions annually to meet Denmark's 2030 emissions reductions targets. However, with few young people opting for a vocational education, the country is lacking the electricians, plumbers and other technicians to meet its goals. Green Power Denmark has proposed that the Danish Parliament join the organisation in developing a plan to meet the labour needs of the next decade.