General
Denmark tops global competitiveness index for the first time
---
This article is more than 1 year old.
The ability of Danish companies to compete on the international stage is reflected in the 2022 IMD World Competitiveness Ranking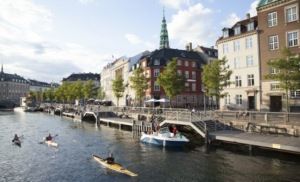 After years of coming close, Denmark has finally reached the indomitable summit of world competitiveness.
Published annually by the IMD Business School in Switzerland, the 2022 World Competitiveness Ranking placed Denmark first out of 63 economies.
"Denmark has played extremely aggressively on the sustainability front and benefits from being a small country in the European market," said Arturo Bris, the head of the IMD World Competitiveness Center (WCC), the ranking's creator.
"Operating within that framework has allowed it to announce aggressive reductions."
READ ALSO: Denmark's startup ecosystem making headway
Strong economy during pandemic
Denmark has flirted with first place in the past five years, being ranked third in 2021, second in 2020, eighth in 2019 and sixth in 2018.
According to the WCC, Denmark's ascendency to the zenith of the ranking is down to a sharp rise in its economic performance during the pandemic.
"This is driven by increases in investment flows in the country, a contained rise in prices compared to other developed economies and by the strengthening of public finances with a reduction in public debt and government deficit," said Marco Pistis, a research specialist with the WCC.
Last year's top performer, Switzerland, ranked second ahead of Singapore, Sweden and Hong Kong, while the Netherlands, Taiwan, Finland, Norway and the US completed the top 10.
Other notables included Ireland (11th), Canada (14), Germany (15), China (17), Australia (19), the UK (23), South Korea (27), Japan (34), India (37), Indonesia (44), Mexico (55) and Brazil (59).
Venezuela was last on the list, preceded by Argentina, Mongolia and South Africa.