News
Danish News Round-Up: COVID-19 costs quadrupled in 2021
---
This article is more than 1 year old.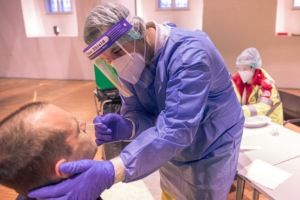 The corona bill is at the table, and it is a hefty one, according to data just released by Danmark Statistik. 
In 2021, expenditure relating to COVID-19 totalled 20.1 billion kroner – nearly a tenth of the 270.8 billion spent on healthcare in Denmark, which itself rose by 25.5 billion. 
It is almost exactly four times the 5.1 billion spent in 2020.
Vaccination and testing costs
While the actual treatment of corona patients only cost 0.9 billion kroner, 12.5 billion was spent on testing and detection, compared to 1.7 billion in 2020.
While the cost of vaccinations totalled 4.4 billion kroner.
10.8 percent of the GDP
Spending at hospitals rose by 3.1 billion to 116.8 billion, and there was an increase in the cost of dentistry.
In total, healthcare ended up spending 10.8 percent of the GDP.
---
Reports of child sexual abuse reached all-time high in 2021
Last year, 1,455 sexual crimes were committed against people under the age of 20 in Denmark, according to a new report by Børns Vilkår and Trygfonden. Børns Vilkår head Rasmus Kjeldahl believes this record-high number is primarily attributable to an increase in the reporting of abuse as a result of the consent-based rape legislation introduced in 2020. However, rising rates of online bullying and stalking may also be at play. In any case, there is still a long way to go before the safety of all children in Denmark is ensured, added Kjeldahl.
Proportion of young people smoking decreases
The proportion of young people in Denmark who smoke fell over the 2017-2021 period: by 37 percent among 16 to 19-year-olds and 26 percent among 20 to 24-year-olds. Since tobacco laws were tightened in 2021, cigarette prices have jumped, becoming the youth's biggest smoking deterrent according to Niels Them Kjær, the project manager at Kræftens Bekæmpelse. Nonetheless, one in every four 20 to 24-year-olds still smoke, either regularly or occasionally, leaving room for even stricter legislation in the future.
New law makes buying rural homes easier
Danish Parliament has passed a new law allowing Danes to take out loans with state guarantees for homes in rural areas. Previously, loan requests for rural homes faced a disproportionately high rejection rate. "With this bill, we are correcting a mistake in the loan market, which has been in force for several years," stated Enhedslisten's Henning Hyllested. "It is not fair that some people with an otherwise good economy get 'no' for a loan for a dream house, simply because the house is in the wrong place." Danes can take out the state-guaranteed loans from July 1 onwards.
Crown Prince kicks off widely-attended Royal Run
A record 92,000 participants ran in this year's Royal Run on June 6, including several members of the Danish royal family. The Crown Prince Couple – Frederik and Mary – and their four children took part in races across five Danish cities, with eldest son Christian beating his father in the 10 km stage through Copenhagen. The Royal Run is set to return in 2023.
Number of traffic-related deaths down in 2021
Despite high traffic levels, the Vejdirektoratet road directorate has reported that 2021 had the lowest number of accident-related deaths and injuries since records began nearly 100 years ago: 130 and 2,607 respectively. In line with this decrease, there were also fewer fatalities involving motorists, cyclists, and alcohol-related accidents. The transport minister, Trine Bramsen, attributes this to increased road safety but has emphasised the need to reduce road casualties even further. Vejdirektoratet has 29 named plans to improve traffic safety in the coming years – particularly among cyclists.
Percentage of young working Danes decreased in 2020
Statistics from Danmarks Statistik have revealed that the proportion of young Danes working part-time jobs fell to 32.1 percent in 2020, down from 38.2 percent in 2008. Young people living in big cities work less than those living far away from them, and girls work more often than boys. Across the board, part-time jobs in supermarkets make up for one-third of the positions held by young people.
Increase in percentage of over 50-year-olds working in public sector
Data from Danmarks Statistik shows that the proportion of people over the age of 50 working in the public sector has grown. Across the sub-sectors, the municipal workforce has seen the largest percent increase, with 38.8 percent consisting of over 50-year-olds in 2020. This is 3.2 percentage points more than in 2010, meaning that people are staying in the Danish labour market for longer. Danmarks Statistik also reported a 5 percent increase in the proportion of public sector workers who have an ethnic origin other than Danish, as well as a steadily high proportion of female workers in the municipal and regional sub-sectors.
Listeria outbreak claimed lives of three Danes in May
Three elderly people lost their lives to a listeria outbreak in Denmark in May, it has been confirmed. Some 15 infections were registered across the country – a considerably higher amount than the usual four per month. Luise Møller, an epidemiologist at the Statens Serum Institut, says the increased case count indicates the presence of contaminated food on the market, of which the institute is working hard to identify the source. To avoid listeria, it is recommended that cold-cuts and cold-smoked fish, two high-risk foods, be eaten as fresh as possible. Elderly and pregnant people should take special care.
Students can soon earn more while receiving government financial support
From 1 January 2023, students in Denmark will be able to pick up more hours at work without the fear of losing financial support from the state: their Statens Uddannelsesstøtte (SU). The Danish Parliament decided earlier this month to raise the cap on how much student workers can earn while still being eligible for SU by 4,000 kroner. Therefore, those in higher education will soon be allowed to make 17,876 kroner a month, as opposed to the current 13,876, and those in youth education will have their limit set at 13,178 kroner instead of 9,178.