Things to do
Events in Early Summer: Fest up and embrace the heat!
---
This article is more than 1 year old.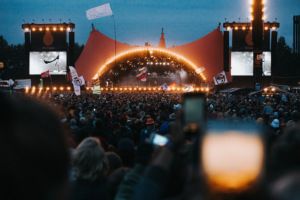 Science and Cocktails
June 28; Koncertsalen, DR Koncerthuset, Ørestads Boulevard 13, Cph S; 145-195kr, drkoncerthuset.dk
Join Nobel Prize-winning physicist Frank Wilczek for 'What Physical Reality Has Taught Me.' Accompanied by the Danish jazz trio Hess/AC/Hess Spacelab, Wilczek will show how the scientific exploration of the physical world has come to touch on issues once confined to the realm of philosophy and, in some cases, theology. While Wilczek unravels the mysteries of the universe – discussing the concepts he calls cosmic humility, cosmic chutzpah and complementarity – you will be drinking one (or more) of the many original cocktails on the menu.
CPH Garden 2022
June 30-July 3; Marbækstien, Ballerup; tickets: from 200kr; cphgarden.dk
Stop and smell the roses at Denmark's largest garden show. Visitors will have the chance to stroll through eight unique show gardens skilfully designed and cultivated by teams of handpicked gardeners, as well as enjoy access to over 100 different lectures on topics like biodiversity, landscape design and kitchen gardening. A ticket comes with free admission to all lectures.
The Spanish Garden
ends July 2, open June 30, 18:00-20:00, July 2, 12:00-16:00; Peltier Gallery, Amager Boulevard 126, Cph S; free adm
These paintings are inspired by Danish artist Maria Dubin's visit to the Danish Valparaiso Foundation in Mojacar, Spain last autumn: a 7,000 km drive in her little green car.
The Rört Festival
July 1-3; Rört, Vermundsgade 13, Cph N; tickets: from 1,495kr; rort.dk
This alcohol and drug-free weekend is all about movement, community and meditation. In addition to talks and concerts, there will be more than 30 two-hour, English-language workshops in disciplines like yoga, dance, parkour, massage, acroyoga, play fighting and meditation.
Streetfoodfestivalen Malmö
July 1 & 2; Posthusplatsen, Malmö
For the price of a quick trip across the Øresund, this festival – which will also be held later in the year in Gothenburg and Stockholm – offers those living in Copenhagen the opportunity to experience beer, wine, music and, of course, a veritable smorgasbord of the Malmö's best street food.
Opera Tours in English
July 6, 12:00; Ekvipagemestervej 10, Cph K; 135kr, under-12s 60kr, kglteater.dk
Discover the Opera's beautiful foyer with its clean lines, Olafur Eliasson's light sculptures, and views over Copenhagen Harbour that embrace the shiny maple shell around the Main Stage. There is also a weekly tour of Gamle Scene on Saturdays at 11:00.
Nibe Festival
June 29-July 2; Nibe, Bork Havn; festival pass: 2,005kr, one-day tickets: 785kr; nibefestival.dk
Head to the scenic Sklaskoven in Nibe to indulge yourself in a cosy atmosphere. Headliners include Carly Rae Jepsen, Tom Jones and the Black Eyed Peas. When you're not jiving to the music, enjoy the beautiful nature and nearby cool communities.
Globe Quiz
June 30, 19:15; Globe Irish Pub, Nørregade 43-45, Cph K; 50 kroner per person to enter
Game night's on at this pub on Nørregade! The winners will be awarded 1,200 kroner, and there are plenty of spot prizes too.
Roskilde Festival
ends July 2; Roskilde Station and follow the crowds;  festival pass 2,250kr, one-day tickets 1,100 kr, all sold out; roskilde-festival.dk
Art, music and activism are the three main pillars of the Roskilde Festival. For its 50th edition, the festival will feature more than 290 artists from different parts of the world including stars such as Dua Lipa, Megan Thee Stallion, Baby Keem and Anitta. In addition to the music, the festival will host artistic events and activists tackling topics such as anti-racism, LBGT rights, freedom of expression and climate change. Again it's sold out, but check internet forums for tickets!
Gravens Rand Quiz
July 5, 19:00; Søndre Fasanvej 24, Frederiksberg; entry 30kr
Maximum of four per team, it's 1,000 kroner for the winners and a crate of beer for second. Two beer rounds, and shots for last place!
Sand Sculpture Festival
ongoing, ends Aug 31, daily from 10:00; Kajgaden 7, Hundested; sandskulptur.dk
Local and international sand sculptors, including several world champions, will display their biodegradable masterworks.
Kennedy's Quiz
July 4, 19:30; Kennedy's Irish Bar,Gammel Kongevej 23, Cph V
Quiz night at Kennedy's Irish Bar includes raffles, cash prizes, and drinks rounds.