News
Bikes4Ukraine: Donate your bicycle to help them in their hour of need!
---
This article is more than 1 year old.
Register via the website and take your bike down to Frederiksberg Rådhusplads on Sunday afternoon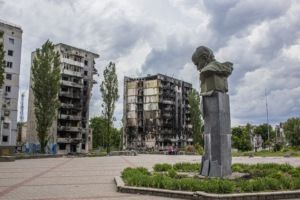 Ever noticed one of those annoying bits of plastic on your bike just in time to stop it being thrown out?
You were lucky: the average backyard in Copenhagen throws out 20 every time it has a purge. So it's no surprise that the Danish public discards 400,000 bicycles every year.
But an initiative to supply Ukraine with 200 working bicycles is struggling to interest the public. The bikes are leaving the capital on Sunday and the consignment is well short of its target.
Bikes4Ukraine needs your bikes today. After all, tomorrow might be too late to help Ukraine with the war.
More important than the Tour de France
Yellow fever might be descending upon Copenhagen as it hosts the Tour de France for the first time in history, but more important things are going on just three country borders away. 
"Ukraine will not get summer vacation this year. I have just returned from Lviv, Kyiv, Bucha and other cities to see the need for bicycles as transport – and it's huge," contends Bikes4Ukraine chair Mikael Colville-Andersen, the CEO of the well-known Copenhagenize Design Company.
"We have bicycles out there that we no longer use and that can benefit people in Ukrainian cities."
All bicycles should be donated at Frederiksberg Rådhusplads between 12:00 and 17:00 on Sunday, after which they will leave in a sponsored truck courtesy of Carlsberg Ukraine.
But so far only 14 people have signed up on the website and promised to leave their bikes.
Roads reduced to rubble by the Russians
Many Ukrainian cities have appealed for bicycles to help its people navigate streets destroyed by Russian artillery.
Lviv needs bikes for its 200,000 internal refugees; Chernihiv has appealed for 7,000, and Bucha, Borodyanka and Irpin have reported stolen buses, petrol shortages, roads turned to rubble and limited transport options for rural areas.
"Despite the fact that fundraising for bicycles in favour of Ukraine is a 'no-brainer' for a city like Copenhagen, we have discovered that the Danes have become a little war-weary and are thinking about the summer holidays in a little while," reasons Colville-Andersen.
"The Tour de France is held in 'the world's best cycling city', but people do not pass the cycling freedom on to Ukraine."
Copenhagen Police has donated 30 bicycles and ABUS has donated 150 powerful locks, but that still leaves Bikes4Ukraine 156 bikes short.
To help reduce this figure, sign up here.