News
Kristian Thulesen Dahl welcome to join Danmarksdemokraterne – Inger Støjberg
---
This article is more than 1 year old.
This comes as Dansk Folkeparti loses members and its 'reboot' gains popularity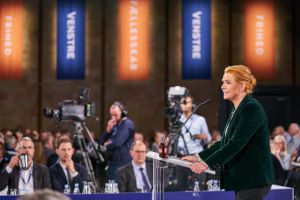 With Danmarksdemokraterne rapidly accumulating voter declarations, leader Inger Støjberg has said she is open to former Dansk Folkeparti head Kristian Thulesen Dahl joining her at the party.
Dahl, who helped to found DF over 25 years ago, announced his departure from the party on Wednesday June 29, making him the eleventh party member to jump ship in the past six months.
"He will be an asset no matter [where he is]," said Støjberg of Thulesen Dahl. "I am thinking in particular of his human and professional qualifications."
Just eight days after its inception, Danmarksdemokraterne has gained over 20,000 official voter declarations – the amount needed for the party to stand for parliamentary elections.
Future undetermined
Whether Dahl will himself lend support to the party is uncertain.
"How my future in relation to the Danmarksdemokraterne or others should develop is something I want to really think about," he said, having described his decision to leave DF as a difficult one.
Though Støjberg has rejected the characterisation of Danmarksdemokraterne as Dansk Folkeparti 2.0, there are indeed similarities between the two parties, such as their stances on foreign policy.
Former DF figure Peter Skaarup has already joined Danmarksdemokraterne, and Støjberg says conversations with other resigned members are underway.