News
Electric vehicles may soon outnumber fossil fuel vehicles in Denmark
---
This article is more than 1 year old.
In the past year, electric vehicle sales in Dennark have increased by 65 percent, and Confused.com predicts that more than half of new vehicles in the country will be electric by 2035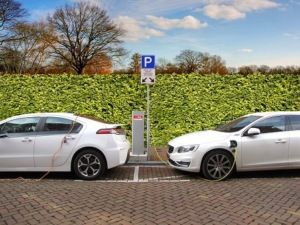 By 2035, 54.51 percent of new vehicles registered in Denmark will be electric – up from 7.19 percent in 2020.  This is according to an analysis of European Environment Agency and Eurostat data by Confused.com – a financial services company based in the UK.
Among European countries, Denmark has taken the fourth-placed spot for the predicted share of electric vehicles of all 2035 car sales.
Norway, with 54.37 percent in 2020, has nearly surpassed Denmark's 2035 projection. Along with the Netherlands, it has tied for the first-place spot on the list – 99.9 percent of the new vehicles registered in these countries in 2035 will be electric.
Sweden has come in at third. By 2035, 80.35 percent of new vehicles registered in Sweden will be electric – up from 9.69 percent in 2020.
Electric vehicle sales skyrocketing in Denmark
Short-term trends are in line with the long-term growth predictions for the electric vehicle industry.
According to Confused.com, the current energy crisis has led to a 110 percent increase in searches for 'electric vehicles'.
And in Denmark, new figures from Danmark Statistik reveal that sales of electric vehicles from July 2021 to June 2022 increased by more than 65 percent from the previous year.  
The increase is coinciding while a huge fall in sales of petrol and diesel-powered cars due to rising petrol prices, increasing inflation and material shortages.
"The car industry and customers focus much more on electric cars, so it is only natural that sales of 'green' cars are rising sharply," Mads Aarup, a spokesperson for the electric car association FDEL, told BT.
"If we did not have a component shortage, we would have sold even more."
Danish government trying to keep up
In Denmark, efforts have been made to accomodate the growing number of electric vehicles in the country.
The number of public access electric car charging points increased by 68 percent to 4,828 from 2020 to 2021.
In March, Copenhagen Airport signed an agreement to set up 1,350 new electric car charging ports over the next 10 years.
And in June, Copenhagen Municipality decided to add 4,100 electric vehicle charging spaces at the expense of parking for petrol and diesel cars.
However, it has apparently been a struggle to meet the charging demand brought about by skyrocketing electric vehicle sales. A few days ago, for example, a new study by Uswitch – another UK-based price comparison service – ranked Denmark as one of the worst European countries for owning an electric vehicle.