News
Proof the royals influence Denmark's name choices more than its football stars
---
This article is more than 1 year old.
Every member of the Crown Prince family are in the top 50 bar Mary, but only one member of the successful Euro 2020 team!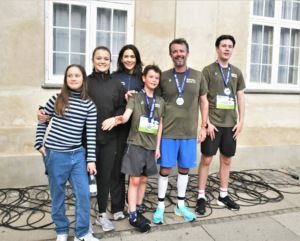 All four of the Crown Prince Couple's children featured in the top 50 most popular new-born boys and girls' lists for 2021, respectively topped by Oscar and Alma, which were today confirmed by Danmarks Statistik.
Vincent (41st with 189 new namesakes) shaded big brother Christian (45th with 181) in the battle of the boys, although neither could dislodge 'Far' Frederik (30th with 248) as top dog in the royal household.
While Josephine (19th with 306) upstaged big sis Isabella (24th with 259) to make it two out of two for the twins, with 'Mor' Mary outside the top 50.
Granted, Josephine benefited from the popularity of Josefin, the alternative spelling of her name, but who's counting (besides Danmarks Statistik, of course).
Ida gunning for top spot again
For Alma, it was a repeat of 2020, while Oscar has risen a place to gain top spot from Alfred, which has fallen four spots to fifth.
In 2019, Emma and William ruled the charts, but today they find themselves seventh and third.
But don't rule out a comeback. Ida, a national favourite in the early 2010s, rose from 17th last year to claim second.
In the girls' rankings, the top five were Alma, Ida, Clara, Ella and Olivia, and for the boys, it was Oscar, Karl, William, Oliver and Alfred.
Is Holger Rune a factor?
Celebrity factor rarely makes an impression at the top of the charts, but perhaps tennis star Holger Rune can take part of the credit for his name rising from number 63 to 46 – the biggest mover in the top 100.
However, the stars of Euro 2021 failed to make much of an impression, with Christian Eriksen the only notable inclusion, albeit in a lowly 45th – not even Kasper despite the exploits of goalkeeper Schmeichel and top scorer Dolberg.
New to the top 50 for the boys are Ebbe and Luca. The biggest faller was Noah, who fell from number 4 to 13, while Vilhelm, Bjørn and Asger have dropped out of the top 50 altogether.
New to the top 50 for the girls are Vera and Elina, while Sara and Alba have fallen out of the top 50.