News
A series of arsons in Slagelse create insecurity among citizens
---
This article is more than 1 year old.
Police are investigating whether there is a connection between the fires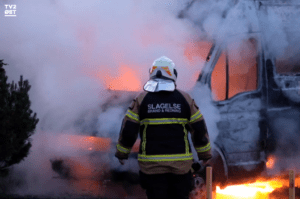 The fire brigade has been called to quell flames in the northern part of Slagelse a dozen times since July 5, and eight of the fires are believed to have been arson.
Most of the fires have taken place within a 300-metre radius around Valbyvej, with the two most recent fires taking place at the same housing cooperative, Andelsboligforeningen Valbyhaven.
Fear and insecurity among citizens
"It is unsafe that something like this happens so close", said Irene Rasmussen, the resident chairman of Andelsboligforeningen Valbyhaven, to TV2.
Pia Heide Heidebo, a citizen who lives close to the housing co-op, told TV2: "I completely panicked and shook. Neither I nor others had imagined that it would happen again".
Actions have been taken by the police
At South Zealand and Lolland-Falster Police, Deputy Police Inspector Casper Andersen told TV2 that they are now intensifying their efforts around Slagelse.
Extra patrols have been deployed in the area, and police are investigating whether there is a connection between the various fires of the past 2 weeks.