Things to do
September Events: Who's your favourite 'queen' of all time?
---
This article is more than 1 year old.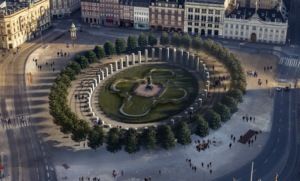 Golden Days
Sep 2-18; various venues; goldendays.dk
If you've been wondering what's going on around Kongens Nytorv, here's the answer. In preparation for the annual September history festival Golden Days, the posters of 50 'queens' have been placed on pedestals around its perimeter. But while some are monarchs, living or dead, others are queens in a different way: from queen of pop Cher to queen of our hearts Lady/Princess Diana. It is all in accordance with the theme of this year's festival, '50 QUEENS' – a chance to celebrate the lives of a half century of female 'queens' who have left an indelible impression on the world we live in. Swept up in the mood of female empowerment, organisers expect their events to take over the city to the extent that Kongens Nytorv will be temporarily renamed 'Dronningens Nytorv'.
Copenhagen English Comedy Night
Sep 9, 20:00; Scandic Spectrum, Kalvebod Brygge 10, Cph K; 170kr (includes drink)
Join the Copenhagen English Comedy Night at its new venue near Copenhagen Central Station. The headliner is British comedian Maureen Younger with support from Tomas Kaminski (Poland), Joe Eagan (Canada) and the compere Adrian Mackinder (UK). Watch out for details of the next show on October 7 with headliners Dave Thompson (UK) and Alan Francis (UK).
Harlem Globetrotters
Sep 24; Ballerup Super Arena, Ballerup Idrætsby 4; from 295kr, ticketmaster.dk
The American exhibition basketball team will be in Copenhagen as part of their 2022 world tour. Founded almost 90 years ago, they are famous for their one-of-a-kind entertainment show, mixing outrageous skills with LOL moments as they run rings around their opponents.
Nordic Race – Refshaløen
Sep 3; Refshalevej 163A, Cph K; 575kr; nordicrace.dk
Nordic Race is an athletics obstacle course some 5km long with 30 different obstacles. You can either participate as an individual or in a team. Anyone can join in with the fun, but under-15s must be accompanied by an adult.
Fredensborg Palace Market
Sep 10; Fredensborg Palace, Jernbanegade, Fredensborg; free adm
This market near Fredensborg Palace is full of local food producers selling ingredients such as cheese, wine, vegetables, jams and more. There are also opportunities to buy Danish design items such as jewellery and other forms of artwork.
Saving the hedgehogs
Sep 10; Botanisk Have, Gothersgade 128, Cph K; free adm
For Nature Day, the Botanical Gardens in Copenhagen is hosting an event that calls for action to save the country's hedgehogs from a miserable premature death. There will be activities for the whole family to participate in: a perfect way to spread awareness on how we can help the environment.
Buster Film Festival
Sep 16-Oct 9; various cinemas; tickets from 20kr; buster.dk
Buster is Scandinavia's largest film festival for young people, targeting the 3-16 age bracket with more than 100 movies, TV series, and games. Participating cinemas can be found in Copenhagen city centre, Frederiksberg, Vesterbro, Valby and Vanløse.
Copenhagen Half Marathon
Sep 18, 11:15; starts and finishes on Øster Allé, Cph Ø; 575kr, cphhalf.dk
It's not too late to sign up for the annual Copenhagen Half Marathon, although the price has risen from what it was at the beginning of 2022. Founded in 2015, thousands are expected to compete.
Fly me to the Moon
Sep 28-Oct 20, performances Mon-Fri 21:30, Tue 13:00, Sat 17:00; Krudttønden, Serridslevvej 2, Cph Ø; 205kr
The English language premiere of Marie Jones' play 'Fly me to the Moon', a comedy play depicting the lives of two nurses presented with an opportunity to get ahead financially, which ultimately spirals out of control. Starring Dawn Wall and Alexandra Jespersen, the play is directed by That Theatre Company's artistic director Ian Burns
The Queen's New Border
Sep 14-18; Biblioteket Rentemestervej, Cph NV; 160kr
The Copenhagen Theatre Circle presents its original play 'The Queen's New Border' by longtime member Alun Thomas – a satire set in Ireland as the reality of post-Brexit begins to set in.
SMK evenings
ongoing, every Wed; Statens Museum for Kunst, Sølvgade 48-50, Cph K
On Wednesdays SMK stays open until 20:00 before which you can receive a guided tour and enjoy various art experiences.
Summer Concert at Glyptoteket
ends Sep 25; Sundays at 12:00; Dantes Plads 7, Cph K; 180kr
Enjoy a concert within the museum surrounded by beautiful artwork and artefacts. The price for a ticket to the concert also permits you entry to the museum for a full day, allowing you to explore the rest of the museum before or after the concert.
Zanele Muholi
ongoing, ends Sep 4; Kunstforeningen GL Strand, Gammel Strand 48, Cph K; 90kr
South African photographer Zanele Muholi presents the stories of black lesbians, gay, intersex, and trans lives in South Africa through photos. Enjoy a collection of more than 100 photographs that celebrates the career and work of Muholi as a visual activist.
Dinner theatre concert series
Sep 8, 20:00; Stalden at Krudttønden, Serridslevvej 2, Cph Ø; 170kr for show & dinner, cphmusicals.com
This is the first of a dinner theatre concert series: a collaboration between CPH Musical Theatre and Lamfuz Madklub. Enjoy a vegan dinner (75kr) that everyone can enjoy followed by songs from some of the biggest Broadway and West End shows (95kr).
Quality Cattle
Sep 10, 16:00 & 20:30, Sep 11, 16:00 & 18:30; Krausesvej 3, Cph Ø; 100-140kr, åben.com
Back by popular demand, Assemble Theatre Collective is staging four performances of 'Quality Cattle', an immersive theatre production set in a dystopian future, at Åben Festival.
HAYDN Festival
Sep 2-4; Konservatoriets Koncertsal, Julius Thomsens Gade 1, Frederiksberg; from 150kr
The festival offers three days of experiences and surprises with a focus on the music composed by Joseph Haydn. Much of Haydn's work was overshadowed by Beethoven and Mozart, but this festival intends to change this by putting his work at the forefront.
LAST CHANCE: Dorothy Iannone exhibition
ends Sep 11; Louisiana, Gl Strandvej 13, Humlebæk; 145kr
This is your last chance to see the Louisiana exhibition featuring the work of Dorothy Iannone, a homage to freedom and the right to express their sexuality. Most of her images are autobiographical and known for their colourful imagery.
Closing day at Tivoli
Sep 25; Vesterbrogade 3, Cph V; from 145kr
Tivoli's summer season is coming to an end: the perfect excuse to get together with friends or family before the weather gets colder.
CTC Play Reading
Sep 8, 18:30; Bootleggers Frederiksberg, Falkoner Alle 17; free adm; ctcircle.dk
Copenhagen Theatre Circle hosts its monthly play reading where anyone with an interest in theatre, regardless of experience, can come and participate or listen to the reading.
Giselle
Sep 3-22, times vary; Gamle Scene, Kongens Nytorv 9, Cph K; from 110-670kr, kglteater.dk
Giselle is a romantic ballet that can be enjoyed at the Royal Theatre's home of ballet, Gamle Scene.First performed in Paris in 184, it's the perfect introduction to classical ballet, taking the audience into a world of mystery, eroticism, beauty and death.
Chamber Concert #1
Sep 4, 15:00; Gamle Scene, Kongens Nytorv 9, Cph K; 285kr, kglteater.dk
The Royal Danish Orchestra Chamber holds concerts at the Old Stage where you can also meet the musicians after the show at Takkelloftet Foyer, which has a view over Copenhagen Harbour.
Viva
Sep 21; Wallmans Circus Building, Jernbanegade 8, Cph K
Wallmans is premiering their new dinnerparty in central Copenhagen. The show is a celebration of life and togetherness. It is hosted by Megan Moore as well as a live band that will be playing music from the 1920's up until now with covers.
Lights on Vesterbro
Sep 2-4; various venues in Cph V; free adm
The festival offers a mix of cultural activities in Vesterbro, mostly aimed at introducing the district to visitors.
Conrad Molden – Hyggelicious
Sep 11, 19:00; Bremen, Nyropsgade 39-41, Cph K; 185kr, billet.dk
British standup comic Conrad Molden takes a look at Danish culture with his inventive use of Danglish. It's the perfect occasion for a night out.
Connections
starts Sep 17; Sølvgade 48-50, Cph K; 95kr
The year 2022 marks exactly 30 years since Denmark received 20,000 refugees from the former Yugoslavia. Many of these refugees chose to stay in Denmark and became artists, and seven of them present personal artwork inspired by the Yugoslav Wars, migration and asylum policies.
Syrian Doc Days
Sep 7-11; Cinemateket, Gothersgade 55, Cph K
A festival for documentaries from or about Syria is held every year in Copenhagen, helping to shine a light on the Syrian stories that go un-noticed. It is supported by Nordisk Kulturfond.
Comedy Stop Copenhagen
Sep 1-3; Bremen Teater, Aveny-T and DR Koncerthuset, 150kr
A line-up of comedians including Katherine Ryan, Nigel Ng, Jenny Bede, and Sean McLoughlin. The event is held to showcase the biggest comedy stars of the future.
Madland Food Festival
ongoing, ends Oct 9; various venues in Copenhagen; madland.dk
This sustainability-focused food festival is perfect for foodies and will allow you to taste different types of food from sustainable origins. The festival also includes film experiences and a harvesting fest.
Globe Quiz
Sep 8 & 22; Globe Irish Pub, Nørregade 43-45, Cph K; 50 kroner per person to enter
Game night's on at this pub on Nørregade! The winners will be awarded 1,200 kroner, and there are plenty of spot prizes too.
Gravens Rand Quiz
Sep 13 & 27; Søndre Fasanvej 24, Frederiksberg; entry 30kr
Maximum of four per team, it's 1,000 kroner for the winners and a crate of beer for second. Two beer rounds, and shots for last place!
Kennedy's Quiz
Sep 5, 19:30; Kennedy's Irish Bar,Gammel Kongevej 23, Cph V
Quiz night at Kennedy's Irish Bar includes raffles, cash prizes, and drinks rounds.
Opera Tours in English
Sep 3 at 11:00, Sep 11 & 25 at 12:00; Ekvipagemestervej 10, Cph K; 135kr, under-12s 60kr, kglteater.dk
Discover the Opera's beautiful foyer with its clean lines, Olafur Eliasson's light sculptures, and views over Copenhagen Harbour that embrace the shiny maple shell around the Main Stage. There are also weekly tours of Gamle Scene on Sundays at 11:00
Science and Cocktails
Sep 10 & 27; Koncertsalen, DR Koncerthuset, Ørestads Boulevard 13, Cph S; 145-195kr, drkoncerthuset.dk
Check the website to see what they've got in store for you in September.
Proper British Afternoon Tea
Sep 25; Kogebogeriet, Guldbergsgade 10, Cph N
If you're looking for an authentic British afternoon tea, then Kogebogeriet is the place to go. Enjoy a menu that includes roast beef with Yorkshire pudding, freshly-baked scones and clotted cream, along with unlimited tea.
Gentofte Market
every Sun 07:00-14:00; Bregnegårdsvej, Gentofte
Happening every Sunday, Gentofte Market is a great place to go to for a weekend shopping trip for antique or vintage goods.
Nørrebro Flea Market
every Sat 09:00-17:00; Nørrebrogade, Cph N
Norrebro Flea Market is a local flea market with several different vendors and is especially a great spot for buying second-hand clothing.