News
The ultimate event for internationals in Denmark: all your questions answered about your new home
---
This article is more than 1 year old.
Miss International Citizen Days 2022 at your peril! Reserve September 23-24 in your calendar, because you've got plans!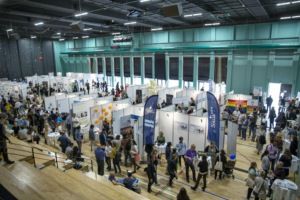 Turn back the clock four centuries and put on your best togs. You're heading out for an evening of discovery at one of Copenhagen's most historic buildings.
Built in the 1620s, Børsen on Slotsholmsgade, just a stone's throw from Parliament (we hope it never comes to that), housed Copenhagen's stock exchange until 1974. For nearly four centuries, the city's brokers traded commodities whose value was invariably determined by international markets.
It's fitting therefore that on the evening of Friday September 23 (17:00-20:00), a different kind of international market will be taking place: the jobs and careers segment of International Citizen Days 2022, where the organiser International House Copenhagen will do its very best to put you in touch with potential employers in Denmark.
Super Saturday
To go with the job, you've going to need a home (right?), along with a social life bustling with leisure activities. Maybe that's why the organisers have chosen the city centre pleasure dome DGI-byen, famous for its huge donut-shaped swimming pool, to host the second segment of International Citizen Days 2022, from 10:00 to 15:00.
Like at previous editions, where attendee numbers exceeded 5,000, its main sports hall will be packed with stands, enabling you to simply walk by every single one, assessing their suitability to your needs and pleasures as a newly-arrived international in Copenhagen.
Adjoining rooms will be buzzing with activity, from relevant talks to engaging seminars, while the main room will be no less busy, with demonstrations, children's activities and the chance to speak to experts face-to-face about the matters that perplex you most about living in Denmark.
CHECK OUT THE PHOTOS FROM LAST YEAR
All your questions answered
Whether it's housing options, municipal matters, banking rules, the cultural scene, tax laws or language classes, the organisers are determined that not a single question will go answered: this really is your one-stop station for learning everything about your new home.
On Day 1, the proceedings will begin with an address from the mayor of employment and Integration in Copenhagen, Jens-Kristian Lütken, followed by former minister Brian Mikkelsen, the now chief executive of Dansk Erhverv, Borsen's owner, which is regarded as being the Danish chamber of commerce.
On Day 2, the day will commence with a warm welcome from the mayor of culture and leisure in Copenhagen, Mia Nyegaard,, one of many high-ranking officials from Copenhagen Municipality, who regard the event as one of the most important on their calendar.
Because don't forget: along with the public authorities present, private organisations, local communities and local sports and hobby clubs regard this as a wonderful opportunity to get in touch with you. They need you as much as you need them!
Don't forget to pre-register
The event, which is part of Greater Copenhagen's national month of Welcome September, is completely free to attend. Refreshments and light snacks are provided.
All you need to do is pre-register before attending, so organisers have a good idea of how many to attend. Be warned that for Friday's event, you will join a waiting list, as interest has been so high in attending.
In previous years at the Saturday event, it must be noted that the first hour is the best time to show up, as it tends to get pretty full. Getting there early will enable you to see exactly what is on offer on the program and attend the special events that matter the most to you.
Pre-register via this link!