News
Danish News Round-Up: Christmas is cancelled … or at least the light displays!
---
This article is more than 1 year old.
The decorations might not be as bright this December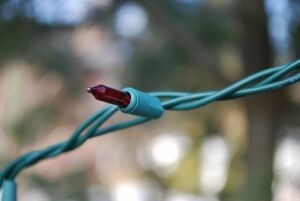 With energy prices increasing, more people and businesses are deciding to drop their use of Christmas lights, even though there is currently more than 100 days before the festive period.
Many phasing them out
Salling Group has announced that its shopping centres in Aalborg and Aarhus will not be putting up their usual Christmas light decorations, and the same decision has been made by Hotel d'Angleterre in Copenhagen.
Tivoli, which is also well known for its Christmas decorations, won't completely phase them out, but does have plans to cut its energy use. It is planning on using solar panels from 2023 as an energy supply for the themepark.
Christmas cancelled on Fredensgade
One street in Denmark, Fredensgade in Hinnerup, which is known for its iconic annual Christmas lights, is also considering turning down for their use of lights.
The decision will have to be made amongst the 20 households annually involved with the light show, but early word is that they are likely to call 2022 a no-show.
---
Stricter visa rules for Russians
EU countries are not going to be giving out visas to Russian citizens for tourism purposes, and Denmark will be doing the same. The immigration and integration minister, Kaare Dybvad Bek, has stated that it is provocative that so many Russians are travelling to EU countries on holiday while their home country has invaded Ukraine – a free and democratic European country. Russia has now joined the same group as Somalia, Syria and Eritrea in terms of receiving visas.
Dubai court orders swindler to pay back huge sum to Denmark  
It's been a good and bad week for Sanjay Shah, the British business man who swindled the Danish state out of more than 9 billion kroner. Firstly on Monday, a civil court in Dubai confirmed he will not be extradited to Denmark, according to his lawyer, where he risked being sent to prison for up to 12 years. The ruling is not final and can be appealed by prosecutors in Dubai. But then on Thursday, the court in Dubai ordered Shah, and other companies and individuals, to pay over 8 billion kroner back to Denmark. In total, the Danish state was defrauded of 12.7 billion kroner, and it has so far only recovered a small amount back.
Public can apply for state funds to make their homes more energy efficient
Danish homeowners can now apply for funds through the government to help with rising energy prices, providing they satisfy certain criteria relating to income and assets. The funds will help make their homes more energy-efficient in order to help save their use of energy, such as by changing to heat pumps, improving the insulation, replacing windows, and other climate-friendly remedies. The total fund amounts to 2.5 billion kroner.
Funen municipality comes up with innovative method to get rid of invasive plants
Nyborg Municipality on Funen is using goats to help get rid of invasive plants. Six goats have been taken around the municipality and eaten plants deemed unwelcome in particular areas, such as some unwanted blackberry bushes growing in forest areas. The innovative idea, which was dreamt up by Johanne Bastiansen, has been nominated by Miljøstyrelsen for its 'Most Intelligent Project' award. The municipality has also funded 150,000 kroner towards the project to help with the transport of the goats and a portable gate.
Arla to reach 100 percent green electricity in Denmark
Arla in January set a goal of reaching 100 percent green electricity in their production of dairy products before 2025. Now the company has signed a 10-year contract with Eurowind Energy that will ensure that Arla meets the goal. Arla will receive energy from a 11-turbine windpark situated in Nørre Akse, a lake that borders Jammerbrugt Municipality. The energy will ensure Arla runs entirely on green electricity: a mixture of wind, solar and biogas. It has also reduced its production of CO2 by 25 percent since 2015 and hopes to reduce production by 63 percent as part of the new energy plan.
Russians's boat seeking asylum in Denmark
The owner of a Russian boat grounded in Denmark, which was on route towards the USA, has applied for asylum in Denmark. The 49-year-old Russian was formerly a long-term resident in Ukraine. Strong winds caused the 28-foot-long sail boat to be blown off course. The police gave him a train ticket to Center Sandholm where the asylum case will be taken up.
Slowest August for housing sales in eight years
The chief economist at Arbejdernes Landsbank, Jeppe Juul Borre, is not surprised that there were fewer housing sales in the month of August compared to previous years. In 2021 and 2,000, 7,234 and 8,291 homes were sold, but this year fewer than 6,000 – the lowest figure since 2014. Borre reasons that increases in inflation and energy prices have made it more difficult for Danes to find affordable housing. Interest rates for housing loans have also increased by 5 percentage points, up from 2 percent at the start of the year. However, the housing market has not stopped completely as almost 6,000 Danes found new housing.