News
Queen Margrethe tests positive for corona again
---
This article is more than 1 year old.
Other European royals will be alarmed by the news – particularly British King Charles III, who sat bang opposite her during Monday's funeral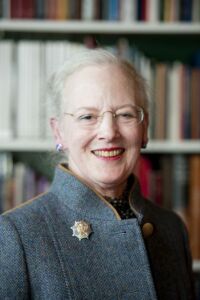 Queen Margrethe II has arrived back in Denmark after attending Elizabeth II's funeral on Monday to discover she has corona again.
The Danish Royal Family confirmed the news today that the 82-year-old monarch tested positive last night. She previously had COVID-19 in February this year.
Rest of the week off
The Queen is at Fredensborg Palace, and she will not participate in any activities this week, the Royal Household had confirmed.
Crown Princess Mary will fill in for the queen on Friday evening at a function held at Christiansborg for the Danish government, MPs and members of the European Parliament.
Potentially of concern to Charles III
It is not known whether her husband, Crown Prince Frederik, who was in close proximity with his mother in connection with attending the funeral, has yet been tested.
The news might also alarm other guests, including new British King Charles III, who sat directly opposite Margrethe during the funeral, just a few metres away.