News
Police investigating drone activity in oil and gas field
---
This article is more than 1 year old.
At least one mysterious drone was seen flying about near the Danish drilling platform Halfdan Bravo in the North Sea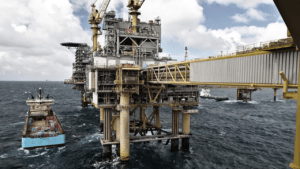 Energy security is a top priority for countries in the Baltic Sea at the moment following the Nord Stream pipeline leaks this week.
So it's a serious police concern that crew members on Halfdan Bravo spotted at least one drone near their drilling platform in the North Sea on Wednesday.
TotalEnergies, which operates the platform, said it had taken appropriate measures in relation to security around the platform – including reaching out to the authorities.
READ ALSO: Three gas pipeline leaks in vicinity of Bornholm – Danish PM suspects sabotage
Norwegians also wary
It is currently unknown who is behind the drone activity and to what end, but at least six observations of drones have been made near Norwegian platforms in recent weeks. 
The Halfdan B gas field is located about 210 km west of Esbjerg and was run by Maersk up until 2018 – French firm TotalEnergies subsequently took it over.
It is also the second-largest Danish gas field in terms of production, while top producing field Tyra is out of commission at the moment due to its ingoing renovation.