News
International Round-Up: Russian Ambassador again summoned to Foreign Ministry
---
This article is more than 1 year old.
Elsewhere, Denmark's business sector increasingly wary about presence in China and Denmark spearheads arms deal for Ukraine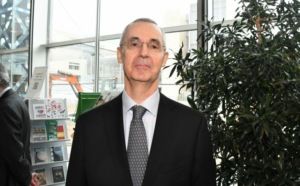 In an attempt to convey Denmark's condemnation of Russia's "grotesque annexation" of the Ukrainian regions: Kherson, Luhansk, Donetsk, and Zaporizhzhia, foreign minister Jeppe Kofod once again summoned Vladimir Barbin for a talk yesterday afternoon.
It is the fourth such summons for Barbin since Russia began its assault on Ukraine – all EU member states agreed to summon the Russian ambassadors in their respective countries.
READ ALSO: Police investigating drone activity in oil and gas field
"Absolutely crazy"
Denmark's dissent will be accompanied by the eighth round of EU sanctions passed against Russia since the conflict began.
The area of Ukraine that Russia has unlawfully annexed is more than double the size of Denmark.
"It's absolutely crazy what Russia and Putin are up to," said Kofod, emphasizing that the actions are "an attack on all the norms and rules that allow countries to live peacefully together."
---
Fluctuating participation rates in EC referendums
It's been 50 years since Denmark ascended to the European Communities (EC) with 90.1 percent of Danes coming out to participate in the referendum. In the years that have followed several issues regarding Denmark's involvement in the EC have been put to a vote with various levels of voter turnout. The vote to join the EC featured the greatest percentage of Danes voting while a referendum regarding a joint patent court in 2014 failed to pique the public's interest with only 55.9 percent of Danes turning out. Recent years have seen generally lower rates of voter turnout with the most recent vote in 2022 regarding the abolition of the EU defense reserves being voted on by just 65.8 percent of the population. The vote passed by two-thirds. For reference, the range of voter turnout for general elections in Denmark is between 82.8 and 88.7 percent.
Denmark spearheads arms donation to Ukraine
A 685 million kroner arms-related donation, with Denmark contributing 285 million kroner, has been signed by the donor conference #CopenhagenUkraine and approved by Parliament. The donation is made in collaboration with Germany, Norway, and Slovakia. The plan is for the financial contribution to be made to Slovakia which will produce and donate artillery systems to Ukraine. Denmark has also approved an additional 1.1 billion kroner donation package to ensure the delivery of essential equipment to Ukraine. This brings Denmark's total contributions to the Ukrainian defense effort to 3.8 billion kroner.
Denmark military deployment
For the first time since the abolition of the EU defense reservation, Denmark will contribute to an EU military operation. The deployment involves one medical helicopter to Bosnia and Herzegovina as part of Operation Althea. It will last from mid-October to mid-December.
Drug smugglers on trial
On Wednesday, a trial will begin concerning three men from Horsens accused of smuggling 1.2 tonnes of cannabis and 24 kilos of cocaine in furniture shipments to Norway. The main suspect, 44, is thought to be the brains behind the organized trafficking group and has pleaded guilty to the charge of cannabis smuggling but not to cocaine smuggling. Two drivers involved in the operation have already been sentenced, one receiving four years in Denmark and the other receiving 10.5 years in Norway. The verdict for this case is expected in January.
Denmark and Belgium working together
Denmark and Belgium have entered a formal agreement to transport CO2 between countries with the goal of permanent geological storage. This is the first bilateral agreement involving co-operation on CO2 capture, use, and storage. The agreement seeks to support the EU's aim of climate neutrality by 2050.
China in decline?
China's incredible growth in years past inspired many Danish companies to invest heavily in the country. But following two and a half years of closed borders, frequent shutdowns, and a tightening of its authoritarian grip on the business sector, many Danish companies are reviewing their Chinese business presence moving forward. Supply chain issues have exposed the vulnerability of companies that place too much faith in Chinese production. In the wake of Russia's invasion of Ukraine, companies are also paying closer attention to geopolitical issues, including China's tense relationship with Taiwan and human rights offenses that influence consumer decisions. China is seen by many as an unreliable business partner in part because of the unpredictable nature of President Xi's regime with its constantly changing legislation.
"The IUD Case" revisited
Denmark and Greenland have agreed to embark on an impartial investigation into the "IUD case" wherein IUDs and other pregnancy prevention methods were carried out against Greenlandic women and girls as well as Greenlandic students in Denmark. The investigation will look into the practice which lasted from 1960 until 1991 in hopes of better understanding the historical context, the decision-making process, and the implementation of the initiative. The investigation will involve witness accounts from the women affected.
Stolen computers found in Serbia
Following a series of major thefts carried out in Falster, the South Zealand and Lolland-Falster Police requested and received a search warrant for an address in Serbia where they located 105 Lenovo computers stolen from 3 elementary schools in Næstved Municipality. Investigations are still ongoing into the other thefts out of the Falster region.