News
"People stealing like never before", claims retail sector
---
This article is more than 1 year old.
Shoplifting rates have been soaring of late, concur police and Dansk Erhverv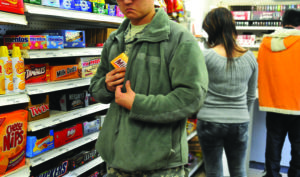 The number of shop thefts has increased by 23 percent over the last six months, according to national police figures.
It is the highest rate of shoplifting for five years, confirms Rigspolitiet.
And with prices continuing to ride amid high inflation due to the War in Ukraine, there is no sign it will stop anytime soon.
"The number of shoplifting incidents often increases when inflation is high," explained Rasmus Munksgaard, an academic at Aalborg University, to DR.
Dansk Erhverv: most of our members affected
Prices today are 10 percent higher than they were last year, according to Danmarks Statistik.
All shops are feeling the increase in shoplifting, according to Dansk Erhverv.
"We are preparing for an autumn when we fear there will continue to be an increase in the number of shop thefts," its chief consultant Henrik Lundgaard Sedenmark told DR.
Virtually all members of Dansk Erhverv who work in retail are experiencing an increase in shoplifting, according to Sedenmark.
Supermarkets taking action
Some supermarkets have opted to close their self-checkout facilities to combat the escalation and put more expensive items behind lock and key. For example, they are moving their most expensive cuts of meat into the warehouse, so they can only be accessed on request.
"People are stealing like never before," Søren Nielsen, a Kvickly store manager in Odense, tells DR.
Some are stealing to 'survive', but many are doing so to sell on at a cheaper price.
"Stolen goods become more attractive to consumers because they are cheaper than the expensive goods in the supermarket when inflation is high," explained Munksgaard.