News
Danish News Round-Up: Heavy traffic expected as Autumn Holiday begins
---
This article is more than 1 year old.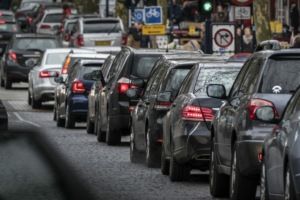 Saturday 15 October from 10:00-14:00 has been highlighted as probably being the busiest period on Danish roads due to the Autumn Half Term Holiday, which starts tonight and continues until Sunday 23 October.
Large numbers of families are expected to take the week off, with many choosing to spend it at their summerhouses. Likewise, today between 14:00 and 18:00 is also expected to be busy.
READ MORE: Autumn Holiday 2022 is packed full of events: from 'Bugsy Malone' to Culture Night
Two hotspots to avoid
Heavy traffic is expected on the E45 Sønderjyske Motorway between Kolding and the Danish-German border as many head south, and on the E20 Fynske Motorway between Odense and Middelfart as many head west.
Motorists are advised to monitor trafikinfo.dk to stay up-to-date on the latest traffic information.
---
Venstre leader performs u-turn on headscarves
Venstre leader Jakob Ellemann-Jensen performed a u-turn on Wednesday regarding comments he made a day earlier. Asked whether people in Denmark should be allowed to reject domestic helpers who wear headscarves – a policy close to the heart of Dansk Folkeparti, who believes the elderly should be allowed to – he said they should have a "free choice" and "the right to speak out". But one day later, he told Ekstra Bladet: "I formulated myself poorly yesterday, and I wasn't quite precise enough. Dress or religion or hair colour or other things are not a relevant criterion. What is important is whether the citizen gets a service they can reasonably count on be satisfied by." Liberal Alliance chair Alex Vanopslagh, meanwhile, has also weighed in by saying that people in Denmark should not be allowed to reject domestic helpers for religious reasons. 
Environment minister under pressure over where she lives
The environment minister, Lea Wermelin, who is Socialdemokratiet's leading candidate on Bornholm, has contravened the CPR Act, reports BT. As a candidate on the island, Wermelin is required to live 180 days a year there, but she has only spent an average of 100 during her current parliamentary term. She spends most of her time based in Nørrebro, where her children go to school. In 2019, Wermelin won 5,059 votes on the island.
Car registrations increase with electric cars leading the charge
A total of 13,200 new passenger cars were registered in September – a 9.7 increase on August. Overall car sales rose by 4.3 percent in the third quarter compared to the previous three months. Electric cars accounted for 23 percent of sales in September, compared to 19 percent in August, while plug-in hybrids accounted for 16.8 percent. It's interesting to notice that 30.8 percent of purchases by private consumers were of electric cars, compared to 14.3 percent among businesses. It's also noteworthy that the average weight of an electric or plug-in is 1,857 kilos – up from 1,668 three to four years ago, while fossil cars tend to be an average 1,300 kilos. It reflects the growing demand for electric SUVs and other large electric cars.
Locals oppose plans to include football pitches in new park
Local groups Nordhavn Naturvenner and Østerbro Lokaludvalgs are disappointed that Copenhagen Municipality's plans for a new nature park in Nordhavn allocate 28 hectares to football pitches. According to Allan Marouf, who is a prominent member of both groups, the wishes of local residents, which were clearly expressed during the consultation process, have been discounted. Furthermore, contends Marouf, a majority of Copenhageners want to see more wild nature areas, according to a survey conducted by the municipality itself. The football pitches could end up accounting for 25 percent of the park, leaving nature with barely 50 percent.
Nobel Prize winner to be honored with City Hall pancakes
Morten Meldal, Denmark's first winner of a Nobel Prize this century, will be honoured at City Hall with pancakes on Monday 31 October. Meldal and two US colleagues won the Nobel Prize for Chemistry for their work in click chemistry.