News
Danish journalist threatened by Qatari security officers during live TV broadcast
---
Video of TV2 correspondent, Rasmus Tantholdt has quickly gone viral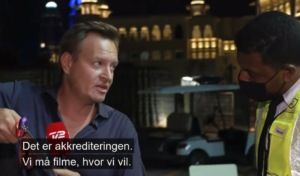 Reporter Rasmus Tantholdt is having a pretty difficult time in Qatar. Less than a week before the 2022 World Cup starts, the TV2 journalist experienced an issue with security officers during a live TV broadcast.
Tanthold was interrupted by two Qatari security officers while on air. They told him his team wasn't allowed to film in the area and covered the camera lens. The correspondent showed the men the accreditations given to him and his crew by FIFA, after which it is believed that the guards smashed the camera.
"You invited the whole world to come here – why can't we film? It's a public place," Tantholdt was heard saying in English. "You can break the camera … you want to break it? You are threatening us by smashing the camera?"
World Cup organisers have apologised
The altercation between the TV2 journalist and the security officers has already been watched millions of times all over the world, provoking outrage from many.
The World Cup organisers tried to calm the situation, and the Qatar International Media Office and Qatar Supreme Commitee both apologised for that issue.
"But will it happen to other media as well?," Tantholdt questioned. Time will tell …