News
Local Round-Up: Worst streets in Copenhagen for parking fines revealed
---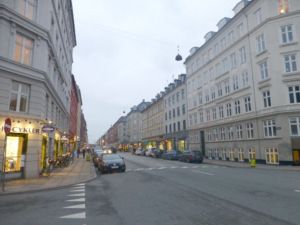 Gothersgade is the worst street in Copenhagen for parking fines.
In 2021, 2,743 of the capital's 277,558 parking fines were handed out on the street, which runs from the Lakes to Kongens Nytorv, according to Copenhagen Municipality figures.
Higher numbers in 2022
This year, the total number is expected to be even greater – both for Copenhagen and Gothersgade, which has already tallied up 3,056 fines.
Completing the list of the top ten worst streets for fines were: Flæsketorvet in Kødbyen (2,925, up from 1,706 in 2021), Bådsmandsstræde, Strandgade, Øster Allé, Frederik V's Vej, Juliane Maries Vej, Nyropsgade, Blegdamsvej and Østerbrogade.
---
Newted! Reprieve for Amager common protesters as court suspends construction
Amager Fælleds Venner (AFV), the protest group opposed to extensive building work on the huge common, has been handed an early Christmas present: a suspension of all work for the foreseeable future at the Vejlands Kvarter site. AFV has demonstrated in the past how the construction of the 219,000 sqm residential housing project, which will provide the city with 2,000 new homes, is invading the home of the great crested newt, an endangered species that is protected by an EU directive. Copenhagen District Court has accordingly granted a suspension, finding in AFV's favour in its long-running battle with the Environment and Food Complaints Board at Copenhagen Municipality. Construction has already started after the municipality claimed it had the authority to go ahead – many media reports at the time made no mention of the newt, despite its undeniable presence and status.
Pilot scheme could enable public to carry out their own PCR tests for COVID-19
Statens Serum Institut and the Capital Region are currently running a pilot scheme at Valby Testcenter that offers the public the chance to PCR test themselves for COVID-19. A limited number of personnel need to be present. First, participants must register via the TCDK app. Then at the self-inoculation station they must follow the instructions and submit their sample. If successful, it could be rolled out to the whole country. Initially, 3,000 people will test themselves between December 1 and 22.
Two youths on trial accused of killing man in Frederikssund in March
A case has begun in Hillerød Court in which two 18-year-olds stand accused of causing the death of a 52-year-old man in March. Kim Hansen, a plumber, was assaulted on AC Hansensvej in Frederikssund at around 6 am on Monday March 7. It is believed he witnessed the pair committing a crime. According to Ekstra Bladet, he was in the process of calling the police to report the youths when they attacked him. Hansen was returning home after watching his club FC Copenhagen beat Randers on the previous day.
Air pollution level rising above EU limit as a result of cold, windless days
An air pollution level of 25.4 micrograms of fine particles per cubic metre has been recorded in Copenhagen this past fortnight, exceeding the EU limit of 25. Cold temperatures and a lack of wind are to blame. "Air pollution can affect people with chronic diseases, asthmatics or people with cardiovascular diseases, so we have to be aware," warned Zorana Jovanovic Andersen, a professor of public health at the University of Copenhagen, to TV2. "But if you are otherwise healthy and fit, you should not be so worried. People can live as they usually do." An estimated 440 Copenhageners die prematurely every year due to air pollution.
Frederiksberg not a carpark for Copenhageners, complains enclave
Councillors in the municipalities of Copenhagen and Frederiksberg are increasingly at loggerheads over parking. Due to the escalation of restrictions orchestrated by City Hall in recent years, Copenhagen residents are increasingly using Frederiksberg as their carpark – and now a new housing development at Nuuks Plads near the border of the municipalities, which has caused 12 carparks in the area to close, is further exacerbating the problem. "We fear that the big problem we already have with Copenhageners parking their cars on Frederiksberg will only get bigger, create additional parking pressure and make it more difficult for Frederiksberg's citizens to park near their homes," Konservative councillor Nikolaj Bøgh told TV2.
New Nordhavn carpark to open tomorrow with free sweeties
Tomorrow, on December 15, a new six-storey carpark will open in the city district of Nordhavn on the corner of Sundkrogsgade and Orient Kaj. With room for 430 parking spaces – considered vital as the district continues to grow, rapidly developing former industrial centres into residential areas – Orient Plads has a strong green profile. Constructed out of environmentally-friendly materials, it has ten charging spaces for electric cars and sources its energy from solar cells on the roof. Its initiator By & Havn invites the public to the opening tomorrow, from 08:00-10:00 and 15:00-17:00, to learn more about the carpark and enjoy snacks "for those with a sweet tooth".
London the top destination for passengers at Copenhagen Airport
December 18 will be the busiest Christmas travelling day at Copenhagen Airport, with 70,000 expected to pass through. Some 1.7 million passengers passed through in November, during which time London was the most popular destination. The airport offers 17 daily departures to the likes of Gatwick, Heathrow and Standstead, handling 140,000 travellers per month on the likes of Norwegian, Ryanair, easyJet, SAS and British Airways. Among the other popular destinations are Istanbul and Malaga. Over 20 million passengers have passed through the airport this year.
Elephant sick with herpes at zoo could be the second one to die of the virus this year
Herpes has again been detected among the elephant population at Copenhagen Zoo. Back in August, the male elephant Plaisak lost its life to the virus, and now Mun, a cub, is receiving treatment. Cubs are most vulnerable to herpes – specifically the EEHV strain, which has been responsible for killing off a great many elephants in zoos before they reach maturity.