Politics
Ministers unveiled in Denmark's new government
---
Mette Frederiksen continues on as PM, while Jakob Ellemann-Jensen and Lars Løkke Rasmussen both land coveted positions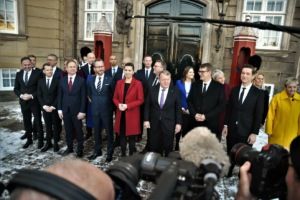 At times, the wheels of politics can move agonisingly slowly – Denmark had to wait 42 days between the completion of the General Election and the formation of a new across-the-centre government, which was presented on Tuesday.
Once greased, though … those wheels can really get spinning.
Yesterday the new government raised eyebrows for proposing, among other things, a significant change to the tax system, doing away with job centres and scrapping a public holiday!
And today, the three parties behind the new government – Socialdemokratiet, Venstre and Moderaterne – unveiled who will assume the various ministerial positions.
READ ALSO: Big changes afoot: New government unveils startling platform
Mette Frederiksen II
No surprise that the PM will once again be Mette Frederiksen. As the leader of the biggest party in Denmark, she has been widely lauded for leading her country safely through the pandemic.
The big question was what jobs would be given to Venstre head Jakob Ellemann-Jensen and Moderaterne boss Lars Løkke Rasmussen?
Rasmussen ended up with the role of foreign minister and Ellemann-Jensen as defence minister. Interestingly, and perhaps due to the title of defence minister not being as prestigious as foreign minister, Ellemann-Jensen has also been named deputy PM.
Other important ministerial positions that have been filled include Nicolai Wammen (S) as finance minister, Troels Lund Poulsen (V) as economy minister, Sophie Løhde (V) as internal affairs and health minister, Peter Hummelgaard (S) as justice minister, Jakob Engel-Schmidt (M) as culture minister and Morten Bødskov (S) as business minister.
Three ministers from the previous Mette Frederiksen government continue on as before: Kaare Dybvad Bek, Nicolai Wammen and Jeppe Bruus.
Currently, the new ministers are meeting Queen Margrethe before being presented to the public.
---
The complete ministerial team of the Mette Frederiksen II government is:
Prime minister: Mette Frederiksen (Socialdemokratiet)
Deputy PM and defence minister: Jakob Ellemann-Jensen (Venstre)
Foreign minister: Lars Løkke Rasmussen (Moderaterne)
Finance minister: Nicolai Wammen (Socialdemokratiet)
Economy minister: Troels Lund Poulsen (Venstre)
Internal affairs and health minister: Sophie Løhde (Venstre)
Justice minister: Peter Hummelgaard (Socialdemokratiet)
Culture minister: Jakob Engel-Schmidt (Moderaterne)
Business minister: Morten Bødskov (Socialdemokratiet)
Development and global climate minister: Dan Jørgensen (Socialdemokratiet)
Environment minister: Magnus Heunicke (Socialdemokratiet)
Social and housing minister: Pernille Rosenkrantz-Theil (Socialdemokratiet)
Employment minister: Ane Halsboe-Jørgensen (Socialdemokratiet)
Children and school minister: Mattias Tesfaye (Socialdemokratiet)
Immigration and integration minister: Kaare Dybvad Bek (Socialdemokratiet)
Tax minister: Jeppe Bruus (Socialdemokratiet)
Food, agriculture and fishing minister: Jacob Jensen (Venstre)
Church, district and Nordic co-operation minister: Louise Schack Elholm (Venstre)
Transport minister: Thomas Danielsen (Venstre)
Education and research minister: Christina Egelund (Moderaterne)
Digitalisation and equality minister: Marie Bjerre (Venstre)
Elderly minister: Mette Kierkgaard (Moderaterne)
Climate, energy and supply minister: Lars Aagaard (Moderaterne)