News
Denmark is the world's least corrupt country
---
The Danes lead the way on Transparency International's vaunted Corruption Perceptions Index for the fifth year in a row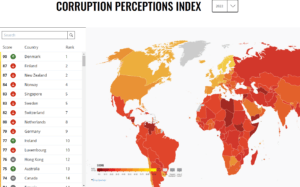 Last year, Denmark suffered the indignity of having to share top spot on the Corruption Perceptions Index with Finland and New Zealand.
This year, they have it all to themselves.
Transparency International ranked Denmark first with a score of 90 out of 100, ahead of Finland, New Zealand (both 87), Norway (84), Singapore and Sweden (both 83).
It's the fifth year on the trot that Denmark has finished at least joint top of the noted index, which ranks countries based on the amount of corruption in their public sector.
"It's genuinely a pleasure. To have our house in order is a fundamental aspect of our international ability to be competitive," said Jesper Olsen, the head of Transparency International Danmark.
READ ALSO: Denmark ranks highly on 2022 Gender Equality Index, but some failings too
Switzerland, the Netherlands, Germany, Ireland and Luxembourg completed the top 10.
Other notables included Australia (13th), Japan and the UK (both 18), the US (24), South Korea (31), China (65), South Africa (72), India (85), Brazil (94) Indonesia (110) and Russia (137).
Somalia was ranked rock bottom, preceded by Syria, South Sudan, Venezuela and Yemen.