Things to do
Big opportunities this winter holiday
---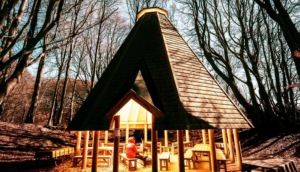 Big Mac, Big Bird, Big Apple, BigFoot, Big Kahuna Burger – there's a pattern here somewhere, and the same is true of wagon wheels, which grew exponentially in the US in the 19th century.
Not only are they more suitable for rocky terrain, but they're much easier on the animal, dramatically reducing the required draft size. In the 1880s, they helped frontiersmen to conquer The West; and in the 1980s, they epitomised American largesse.
Given how prevalent that decade is right now – from the synth-pop dominating the charts to the Cold War re-emerging with a vengeance – it seems appropriate that our 2023 winter holiday supplement (click here for PDF) headliner is an '80s classic.
There are still loads of tickets available for the three Hot Wheels Monster Truck shows on February 11 and 12 (see page 5). And if you're concerned about the environmental impact, you can always turn the whole experience into a lesson on why it's important not to burn fuels for fun.
1970s revisited too
The Copenhagen Light Festival (see page 4) has got that angle licked. Thanks to the participation of Ørsted, the exhibits only use green energy.
Really, this is just as well, as this year's edition follows on the back of a concentrated effort to save energy by turning off the lights at major landmarks and in parks all over the capital region between 12:00 and 05:00.
So while the 1980s are reappearing this half-term holiday at Royal Arena, it's in a city where the energy-conserving practices offer a constant reminder of how we had to cope with the oil crises of the 1970s.
The recreation of an exhibition originally staged at the beginning of that decade in Vienna, Giant Billiards (see page 5), additionally reminds us of how small and insignificant we are in the greater scheme of things: particularly when three metre-wide balls are careering towards our faces at great speed!
Big step outdoors?
If you don't want to dwell on the past, Danish Architecture Center (see page 6) is the place to be ahead of Copenhagen taking over its responsibilities as World Capital of Architecture for 2023 – perhaps combine your trip to DAC with an early evening visit to the Light Festival, as there are always a few exhibits in close proximity to BLOX.
The same can't be said of the Viking Ship Museum in Roskilde (see page 6), although the Light Festival is for the first time in its history pushing its reach out to the suburbs – most notably Brønshøj, Sundby, Vanløse and Tingbjerg.
Otherwise, like most years, there's the normal array of indoor pursuits, from art galleries offering drawing workshops to theatres staging performances.
But really, given the mild weather of late, it's the perfect time to take a 'Big Step' outdoors and enjoy some of the fresh-air winter options in the capital for a change. (BH)