News
St Patrick's Day 2023: Celebrating the good people of Ireland
---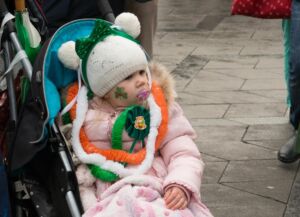 The one thing they got wrong in 'The Banshees of Insherin', the charming Irish film that will most likely end up winning no Oscars come Sunday, is the landlord.
He's mostly forgettable and in awe of his regulars – nothing more than a glorified barman. Maybe this was intentional and an accurate representation of life on sleepy Irish islands in 1923.
But it's not the impression you get visiting the Irish pubs in Copenhagen, where the landlords are very often the lifeblood of the establishment.
Highly-skilled foreigners
From Tony at Kennedy's and Naoise at the Shamrock Inn to Eamonn at Gravens Rand and Paul at Cafe Svejk, these guys are supremely gifted at what they do: it's a pleasure to enjoy a drink in their company, so it's no wonder so many regard these pubs as their second homes.
In fact, when we talk about highly-skilled foreigners, we should include the Irish landlords, as they are as valuable an export to Denmark as biodegradable plastic specialists. 
Fact: nobody does landlording better than the Irish.
Great craic at The Globe
After all, doing something for 10,000 hours makes you an expert – although you would imagine most of them get a headstart and put in overtime – and in the case of Globe landlord Brian McKenna, it has been 25 years since he opened the doors of his establishment.
We caught up with him (see pages 4-5) to find out what the pub has planned for St Patrick's Day, along with a few anecdotes about the stunning interior and how the Globe managed to mark the big day during the COVID-19 lockdown.
To watch Brian at work – the best barman this side of the Mississippi, apparently – is always a privilege: proof again that landlording is an artform we should cherish.
Another overlooked profession?Talking of artforms, it's worth asking whether improv performers get the recognition they deserve – compared to actors, dancers or even stand-up comedians.
In this issue we interview Sarah McGillion (pages 6-7), the Irish founder of SuperCut, an improv group who are in fact performing on St Patrick's Day, although that might be a coincidence!
Sarah confesses to only having one Irish friend in Denmark and didn't really sound too confident when she said she thought they played Gaelic football in Copenhagen. Well, hopefully Sarah, you might learn more about the Irish community when you read this supplement!
Huge rise in popularity
For over 20 years now, the Irish community have been working industriously to make St Patrick's Day the number one national feast day in Copenhagen.
The efforts of the organisers of the Parade (see page 8) and 3-legged Race (pages 10-11), along with the Irish pubs, have turned the day into a major draw for Copenhagen, as every year thousands flock here from all over Europe to join in with the fun.
It's also an opportunity to sell Ireland as a fabulous holiday destination (see pages 12-15).
Shoutout for the actresses!
Coming full circle, 'The Banshees of Insherin' has no fewer than four performance nominations (none of them will win) in what is a breakout year for Irish acting.
But while the prowess of Ireland's men in the field is well documented, did you know that in recent years the women have started to give them a pretty decent run for their money (pages 16-17).
It's another reminder that Ireland's most successful export is neither Guinness nor its whiskey, but its people.