News
Counter-Strike Major in Copenhagen underlines Denmark's status as a premier esports nation
---
Local coach reflects on how much has changed for Denmark's esports scene in recent years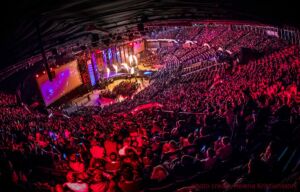 Danes are mad about esports, so many will be frothing at the bit to learn the Counter-Strike Major will be held for the first time in Denmark next March at Royal Arena.
Esports coach Sune Guld Boesen, who works at Vesterbros Ungdomsgaard, is super excited about the event.
"I think it's great for Copenhagen. It's always nice when we dare to take another leap, and they've dared by organising this tournament," he told CPH POST.
"It's like the Champions League in football: the biggest competition in esports. The crowd will be massive."
Not just any old major
This Major will also be the first in history where Counter Strike 2 is played, as opposed to the original.
The prize-money pool will be a hefty 1,250,000 US dollars, and all the world's best teams are expected to attend.
The most recent Counter-Strike Major was held in Rio de Janeiro, where the crowd surpassed any previous competition, buoying the hometown team onto the semi-finals.
"The crowd at Royal Arena will be majorly impactful for the Danish teams," promised Boesen.
"Looking back at the last Major in Brazil, it was probably one of the most crazy majors I've ever watched from a spectator's point of view. The atmosphere was just amazing. So I hope that the atmosphere will be great in Copenhagen as well."
Esports on the rise
Esports in Denmark have a massive following, and according to Boesen they are continuing to have a positive impact for young people around the country.
"I think the esports scene has improved so much since I was a kid. When I was an 11 or 12-year-old playing games online, I just wanted to compete. I was so into it I would just go home and be alone with it. So I wasn't be able to discuss it and it was quite antisocial," he countered.
"Compare that where it is today with all the youth clubs and other places where you can go and share your passion about esports: it's a different world. People actually want to talk about it and kids can learn to be better people through the social aspect of the game. That's what I'm trying to teach because I know that it's important to teach people that esports can have the same positive impact as other sports if they're taken seriously."