General
Keeping promises: Denmark delivers formidable self-propelled artillery system to Ukraine
---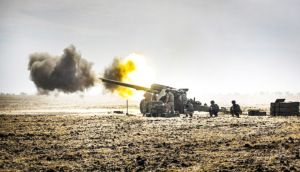 The CAESAR howitzer, the self-propelled weapon system promised to Ukraine by Denmark's Defence Ministry, has arrived in the war-stricken country.
In January, the then defence minister, Jakob Ellemann-Jensen, attended a historic summit at Ramstein Air Base in Germany and promised military aid to Ukraine.
Appreciating Denmark's support, Oleksii Reznikov, Ukraine's defence minister, today confirmed on Twitter that Denmark kept its promise and delivered the world's second-largest CAESAR pack to Ukraine.
"Denmark intended to use these systems for its army, but wisely and nobly decided to transfer them to the Ukrainian army because of the significant threat that Russian aggression against Ukraine poses to Europe as a whole", he wrote.
Hail CAESAR!
The Camion Équipé d'un Système d'artillerie (CAESAR) is a 6×6 military truck armed with French artillery and equipped with an autonomous propulsion system that allows it to move towards its firing position.
According to NEXTER, the designer of the CAESAR, it can accurately strike targets more than 40 km away.
France has previously exported the weapons system to other countries in Europe and internationally.
Russia's reaction
Russia has strongly condemned Denmark's plan to transfer military weapons to Ukraine.
According to a press release from the Russian Embassy in Denmark, this decision will eventually lead to more victims since Russia will not change its general course in favour of Ukraine.
Denmark's support, it warns, will only serve to delay and further escalate the conflict.
"The belief that peace can be achieved through weapon deliveries is both cynical and immoral," wrote the embassy.