News
Inside Danish Sport: Djokovic makes it 23 and history in Paris
---
At 36, the Serb is the first to win 23 Grand Slam titles. The victory in Paris showed all the Serbian's qualities. Don't bet against him extending the record in the upcoming Grand Slams. For Holger Rune, the tournament ended like last year: in the quarter-finals against Casper Ruud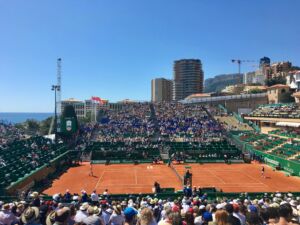 If Carlos Alcaraz hadn't got injured shortly into the third set of the semi-finals of the French Open … The Spanish powerhouse had just drawn level at 1-1 in sets against the 36-year-old Novak Djokovic in the keenly anticipated clash between the world's two best players.
But a calf injury stopped the Spaniard and Djokovic won the next five sets; two against Alcaraz and all three in the final against Casper Ruud.
Djokovic's will and endurance is unique. He has shown time and again over almost 20 years that if the opponent does not take the few chances a match contains, then there is always the same winner: Novak 'Nole' Djokovic.
He is not as elegant as Roger Federer – who ever will be? – and his playing style is not as flamboyant as Rafael Nadal's. But with 23 titles from 34 Grand Slam finals, he has deservedly placed himself at the top of tennis history. Whether it will ever be surpassed, only time can tell. But the fact that he won them in an era in which Federer (20 titles) and Nadal (22) have also played only makes the achievement that much more monumental.
"The four biggest tournaments we have in our sport and every single player dreams of being on this stage and winning at least once in their career: I've been lucky to win 23 times," Djokovic said.
"I'd like to send a message to every young person out there – tennis, sports, or anything else. I had the power to create my own destiny. I visualise everything in my life and feel it with every cell in my body. Forget about what happened in the past; if you want a better future, you create it," he said.
Next up is Wimbledon where Djokovic will be a clear favourite to add to his Grand Slam total.
"I want to win Wimbledon again. I have won the last four Wimbledon titles; I feel good on grass," he said.
Rune seemed spent
Holger Rune got as far as his number 6 seeding indicated: the quarter-finals. In the previous round he seemed down and out but found strength at the very end and won a dramatic five-setter with 7-6 in the last set against Francisco Cerundolo.
The batteries seemed completely flat against Ruud in the quarter-finals, who won the first two sets without breaking a sweat. Rune then made a fight out of it to lose in four, but there is still some way to go if the 20-year-old is to look like a credible challenger to Djokovic and Alacaraz when the slams get tough.
Managing a schedule to prioritise peaking for the Grand Slams is a critical skill for every contender, and it will be interesting to see the tack the Dane takes in the future.
Heading into Roland-Garros, the passionate world number six had played 26 tournaments over the past 12 months – the most of any player in the top 10.
He has also played 20 matches on clay since the start of April. His successful title defence in Munich and final appearances in Monte-Carlo and Rome were impressive.
But it also meant he had played a substantial amount by the time he arrived in Paris. To beat the best, Rune must be more consistent. For the long haul his game fluctuates too much from match to match.