Parents arriving in Denmark are often in for a bit of a surprise when their children start school. Curricula of the kind many are used to – quietly sat before a teacher, reciting times tables – are implemented when children reach the age of six. Before that time, play is all that's on the timetable. 
The Danish early-years education system is similar to that of its other Nordic neighbours, but globally it is still far from the norm. Its fluid, play-based system can often leave expat parents with concerns regarding their child's future, but educators are keen to allay these fears.  
A child's world  
In Britain, parents are used to kids typically entering education at four, before beginning on a more rigid path at five. In countries like France, the US, India and China, a similar path is followed. For parents coming from this background, the Danish system can bring about a sense of unease, with fears that their child is being left behind compared to his or her international peers. 
Despite this, across Scandinavia, and particularly in Denmark, pedagogues are increasingly pushing for an early-years education of a play-based variety. The calculators are put down until six, and kids are provided an environment in which they can explore the world on their own terms. 
An education in play 
From ages three to six, the only requirement in Denmark is that children learn the alphabet. The rest of the time is, at least superficially, set aside for play. But what kids really do in this time is develop a range of organic social and academic skills – skills ignored within other teaching systems. 
Children, being naturally inquisitive, will pick up many of the same skills and understandings covered in parallel age groups the world over. Here however, they do so in an environment where there is time for their questions to be answered. It is a culture that maintains curiosity, channels it, and produces children with the social skills that allow them, crucially, to continue to be curious. 
Between two worlds 
Copenhagen International School is an institution well used to treading the line between the international and Danish worlds, and it has proved well-equipped at implementing the best of both. It is a system self-described as 'Danish-lite': more structured than a typical Danish børnehave, but with a focus on play that makes it typically Scandinavian. 
The pre-kindergarten program takes kids from ages three through five, and the kindergarten program from ages five to six. Unlike most Danish nurseries, the early-years program involves a clear curriculum, with learning objectives set for each given year, even if there are no clear lessons to identify precisely when this takes place. 
Means to an end 
Judeth Christensen is one of the teachers responsible for delivering the pre-kindergarten program, and is clear that there is never truly such a thing as 'free play'. 
"Everything we put out for [the kids] we believe they will learn from through their play, inquiry and interaction," she explained.
It is a sentiment echoed by Rachel Curle, the school's primary years program co-ordinator. She emphasises repeatedly that we are "a school not a daycare" and describes a framework of learning 'co-constructed' with the children themselves: interest-driven and motivated by the child's boundless curiosity. Play is not an end itself; "play is the tool".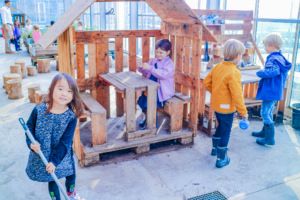 Engaged, empowered, excited 
These early years provide a defining foundation for kids' education. Rachel Beck, a kindergarten teacher, asserts that "kids in our system have more confidence, more self-esteem, and are happier", providing examples of children joining Copenhagen International School from other systems lacking in confidence and taking time to adjust. 
It is a philosophy put succinctly by Curle: "Children have a voice, and children have a choice … We give them agency."  
Success is achieved in a large part through an early-years education that puts as much emphasis on emotional learning as it does on more traditional teaching. In fact, Beck went as far as to say the pandemic had brought with it some benefits: with parents no longer able to have any presence in the classroom, there has been a significant increase in scope to promote independence and assertiveness. 
Why pay to play? 
Of course, this hybrid system comes at a price. Copenhagen International School is not cheap, but it does boast some impressive facilities. The school includes a specialised early years gym, a greenhouse area where kids can interact with nature in the heart of Nordhavn, and a whole host of specialist subject teachers not found at your typical nursery. 
Perhaps more importantly for Denmark's international parents, it offers the reassurance of structure in a system unsettlingly playful. The Danish model promises an exciting, modern method – far from being left behind, these kids have an approach to learning that drives them forwards – and Copenhagen International School stands as one of the schools at the forefront of this approach.