News
Danish astronaut making final preparations for space
---
This article is more than 8 years old.
Just a few small steps away from being the first Dane in space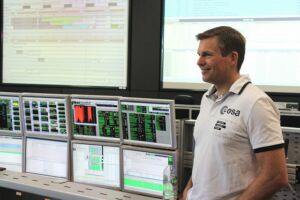 Danish astronaut Andreas Mogensen will do his final training exercise today in preparation for taking part in a 10-day mission to the International Space Station on September 2.
Mogensen's trip will be the culmination of several years of hard training following his acceptance by the European Space Agency (ESA) in 2009. Since then, he has simulated a spacewalk, studied Russian, learned to fly the Soyuz spacecraft and been exposed to high g-forces in a centrifuge.
READ MORE: First Danish astronaut to journey into space
"I have lived at the bottom of the ocean twice for seven days, I've been on an underground expedition, I've been weightless aboard an airplane. It's all been incredibly exciting," Mogensen told TV2 News.
Expecting to fly
Mogensen will be joined by Aidyn Aimbetov and Sergei Volkov on the mission to the ISS. They will conduct a number of scientific experiments, test spacesuits and Google glasses, and take pictures of lightning.
"It is of course something I am really looking forward to," said Mogensen. "Every astronaut who has been in space talks about how it feels to see Earth from a distance."
The 38-year-old Mogensen is an engineer and holds a PhD in aerospace from the University of Texas.