General
St Patrick's Day in Copenhagen: Nobody does it better!
---
This article is more than 7 years old.
"They drink a lot in Ireland and they drink a whole lot in Denmark, so it's a perfect combination of cultures!"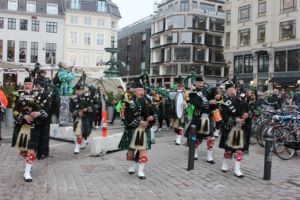 Yesterday, the heart of Copenhagen was beating to the rhythm of Irish bagpipes as the city celebrated St Patrick's Day.
Thousands from all over the world gathered in the city to take part in the Parade and the Three-Legged Race.
A joyful, green-clad crowd congregated downtown to march the streets. And hours later, similarly-sized gatherings could be found outside Irish pubs like The Dubliner on Strøget, which became a magnet for horses, carriages and those in the mood for beer and plenty of it.
From Russia with love!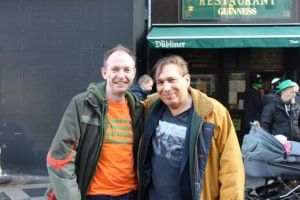 Darryn Clowery from the UK (left) and Larry from New York, who has lived in Denmark for 25 years (right), were among those enjoying the proceedings.
"I used to live in Copenhagen, so this has become a tradition for me! I even come over from Sweden with my posse for it," enthused Clowery.
"I had the pleasure of being tied to a very tall, beautiful Russian woman today: from Russia with love! We did really badly in the race, but we weren't in it to win it! We chose to do the Guinness race: as much as I love Denmark, you just can't choose Tuborg when it's Paddy's Day!"
Skyfall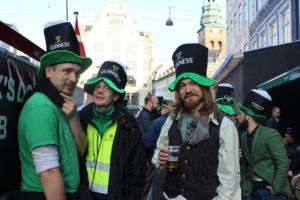 David from Copenhagen (right) was in a buoyant mood with his friends.
"Just got home from sailing for two months and joined some mates for the race. We did so badly, we think we are in the bottom ten!" he said.
Die-hards are forever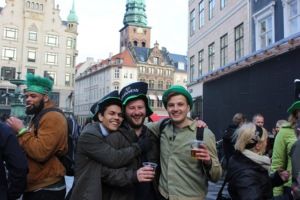 Johan from Copenhagen, Eric from Denmark and Eric from Sweden were also in the race.
"It's a good excuse to be drunk! We took the race slow and steadily! I've been racing for a lot of years now. I used to take it seriously, but now I just take my time – just smoking and drinking!" said Johan.
"They drink a lot in Ireland and they drink a whole lot in Denmark, so it's a perfect combination of cultures!" said Eric from Sweden.
A modicum of solace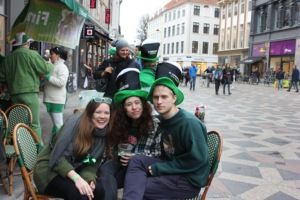 Simone (middle) and Bertil (right) thought they would check out what all the fuss was about.
"We finished school today and it was sunny so we wanted to go out and about!" they said.
"We got first in our group – well, no we didn't but we should have.  Almost first! We were the best in our group: we should have won, we were robbed!"
We'll die another day!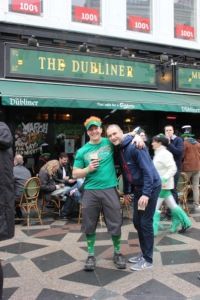 "We meet once a year on this day every year … we ran it in 18 minutes and 52 seconds. We did the Carlsberg race as Guinness would kill you! We figured if we were trying to be fast, we had to go for Carlsberg!"