News
Queen Margrethe celebrates 45 years on throne
---
This article is more than 6 years old.
No celebrations planned as Denmark's monarch nears the half-century mark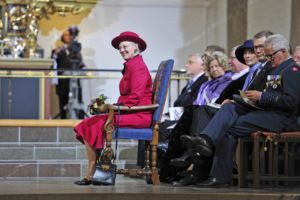 Last Saturday, on January 14 at 19:50, it was precisely 45 years ago that King Frederik IX died, thus beginning Queen Margrethe II's reign as queen of Denmark.
But while the queen's 40-year anniversary as monarch was celebrated over a number of days – including a big ball, exhibitions and a carriage ride through Copenhagen – the Royal Family hasn't planned anything for the 45th anniversary.
READ MORE: Every third Dane wishes Queen Margrethe finally retired
A Queen was born
King Frederik IX became ill at New Year in 1972 and his condition worsened in the following days before he passed away in his sleep on January 14.
When Queen Ingrid and Princess Margrethe left the city hospital following the king's death, the queen sat in the back seat of the royal car, while the princess took the front seat, a sign that she had assumed the reins as monarch.
The following day, the princess was named queen by the prime minister at the time, Jens Otto Krag, at a packed Christiansborg Square.
Earlier this year, it was revealed that every third Dane wants Queen Margrethe, who turns 77 in April, to retire and hand the throne over to Crown Prince Frederik.