InOut
At Cinemas: How spooky Steve became the king of our screens
---
This article is more than 6 years old.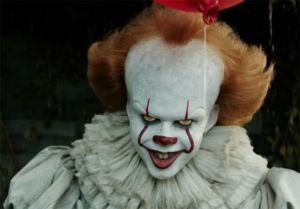 Writers adopt pseudonyms for a host of different reasons. Mary Ann Evans used George Eliot because she didn't believe women's literature was taken seriously. Thanks for nothing, Jane Austen! Agatha Christie used Mary Westmacott to free herself from the expectations of her fans. Thanks for nothing, Jane Marple! And JK Rowling used Robert Galbraith in a quest for "unvarnished feedback". Thanks for nothing, James Potter!
The crap ones
perhaps most unusual of all, Stephen King used the pen name Richard Bachman because he was advised the public wouldn't like it if he produced more than one novel a year. Speaking on behalf of the public, I would be inclined to agree, as nobody likes a clever clogs. Did you know that you have to go to back to 1988 to find a year in which a film or TV series adapted from King's work wasn't released. And that's down to sheer luck, as in 1987, there were five, including Bachman's The Running Man. In fact, King tended to give all the crap ones to Richard.
In 2017, the tally so far is 17 out of 239 writer credits on IMDB, with three more in store for next year, including the series Castle Rock, which will bring characters from 16 of his books into the same sphere, although IMDB made the mistake of listing Rita Hayworth and the Shawshank Redemption and Different Seasons separately, so make that 15. As I wrote last issue (because on average every issue deals with a King adaptation), the man must be a franchise. Maybe Bachman exists after all, which explains why he writes all the crap ones.
The young ones
The most keenly-anticipated release this fortnight is It (Not Released Yet Worldwide; Sep 7), an adored 1986 novel that was swiftly made into a 1990 miniseries starring Tim Curry as the killer clown Pennywise. Thanks to Ronald McDonald and the start of Octopussy, clowns weren't as scary back then, but fast-forward 30 years, and every other person is coulrophobic. It's a recipe for all-out panic.
Still, while the trailer suggests this will be a critically-acclaimed success that even King will like (he famously hated Stanley Kubrick's adaptation of The Shining and loved a 1997 TV version that was seriously rubbish), there are a few casting decisions to take note of – if anything for possible points at the next pub quiz.
First off, child actor Finn Wolfhard, who portrays the leader of a bunch of kids battling evil in Stranger Things, which is itself a massive King homage, has been cast as the leader of a bunch of kids battling evil. This sort of thing can get confusing.
And secondly, did you know that the actor playing Pennywise is Bill Skarsgård, yet another son of the Swedish actor Stellan Skarsgård (Good Will Hunting, Breaking the Waves) making his way in the acting profession? His other offspring include Alexander (True Blood, Tarzan, Big Little Lies), Gustaf (boat-builder Floki in Vikings) and Valter (Arn … so the one who's going to end up emulating Daniel Baldwin).
The old classic ones
But the King treats don't end there as Cinemateket currently has a season dedicated to 1980s cinema he inspired.
Miss Pet Sematary (Sep 16; 20:45), Christine (Sep 9; 21:30), Firestarter (Sep 20; 21:45) and The Running Man (Sep 9; 21:15) at your peril if you're brave enough to keep your eyes open.
And while we're there, King himself would surely love to drop in at the Stanley Kubrick season, which includes screenings of early films Paths of Glory (Sep 24; 20:00), The Killing (Sep 27; 19:30), Killer's Kiss (Sep 20; 17:15) and Fear and Desire (Sep 24; 18:30).
But who needs King when we've got Matthew Modine – another star of Stranger Things – who is co-introducing a screening of Kubrick's epic Vietnam film Full Metal Jacket (Sep 22; 19:15), along with horror films as good as Rosemary's Baby (Sep 12; 21:15) and Psycho (Sep 14, 20 & 23).
The other ones
Elsewhere this issue, we've got four other films hitting cinemas.
Loving (79; Aug 31), a very early 2016 Oscar frontrunner until Moonlight picked up the inevitable blacklash mantle, is getting a very late release. It tells the story of a mixed race marriage that ended up with the newlyweds both being sent to jail in 1960 America. Ruth Negga, who picked up an Oscar nomination, and the always dependable Aussie actor Joel Edgerton star, and the reviews are good.
Back for third helpings are The Trip to Spain (65; Aug 31) and Cars 3 (59; Aug 31). British comedians Steve Coogan and Rob Brydon drive fast cars and perform silly voices in the former, and less known American actors do the same in the latter.
That leaves The Hitman's Bodyguard (50; Aug 31), an opportunity for Ryan Reynolds and Samuel Jackson to prove that for every half-decent film they make, the Devil requires them to make half a dozen turkeys.
A pact with Satan … so that's why King gave us Bachman.