InOut
Roskilde 2018: Stage fall not enough to taint last show on Roskilde's Orange Stage
---
This article is more than 5 years old.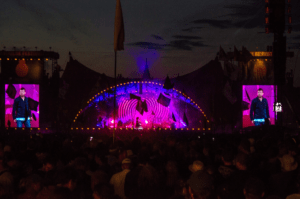 A stage fall at the end of Gorillaz's monumental show on the Orange Stage last night brought the curtains down on an otherwise spectacular performance.
The rapper Del The Funky Homo Sapien had only just begun his recital to Gorillaz's breakthrough hit 'Clint Eastwood' when his bizarre fall off the stage brought proceedings to a halt.
Nothing blurry about his praise
This being the last scheduled song of the show, there could have arguably been worse times for this to happen. All the same, Gorillaz frontman Damon Albarn diplomatically brought an end to the proceedings, thanking the partisan crowd for their support.
This incident apart, Gorillaz delivered one of this year's best concerts at Roskilde, starting proceedings off with seminal tracks such as 'M1 A1', 'Tranz' and 'Last Living Souls'.
Albarn was his usual composed, earnest self, proclaiming his affection for the festival and "maybe the most wonderful night of the year" for him (Roskilde last hosted Gorillaz in 2010, when they also played on the Orange Stage).
Visual masterclass
Gorillaz have crafted a strong identity as one of the world's best virtual bands thanks to the signature animations they employ in their music videos. Then again, one could also say that they are one of the world's best bands – period.
Bringing some of the aforementioned videos to the table last night, Roskilde's guests were treated to an animation show of world-class proportions that ran in the background from time to time.
Tracks like 'Humility', off Gorillaz's latest album 'The Now Now', became a musical as well as visual experience for the party-goers at the Orange Stage last night, with the recognisable semi-animated visuals of Venice Beach and Jack Black running in the panorama background screens.
Natural born genre killers
Accompanying the powerful visuals, perfect instrumentation, crisp vocals and picture-perfect soundscapes, Gorillaz showcased the full range of their powers with forays into the realms of trip hop, rock and indie, laying waste to genres and definitions as they do.
Highlights included the charismatic crowd thriller 'On melancholy hill' midway through the show and, towards the end, 'Dirty Harry' and 'Feel Good Inc'.
'Clint Eastwood,' another of Gorillaz's well-known numbers, cut things short, depriving the audience of a performance of 'Dare' – perhaps the most famous track of their repertoire – but this took nothing away from what had already been and gone.
---
Del The Funky Homosapien was hurt in his stage fall, but is by his own admission "doing alright but will be in the hospital for a bit".