Things to do
On Screens • Playing themselves: From in-joke to TV trope to any old bloke
---
This article is more than 5 years old.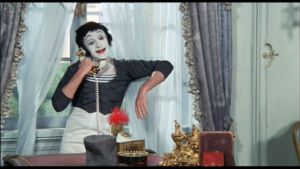 Was mime artist Marcel Marceau the first actor to play himself in a film, when he uttered the only line of The Silent Movie in 1976? Trick question, as James Caan, Liza Minnelli, Anne Bancroft, Paul Newman and Burt Reynolds all played themselves as well.
But the answer is hell no, as there have been dozens of examples, and well in advance of the popular trope today – started by The Larry Sanders Show and seen in the likes of Curb your Enthusiasm and Extras – in which an actor plays an exaggerated, often crueller version of themselves for laughs.
Cecil B DeMille played himself as an in-joke in Sunset Boulevard (1950), for example, with Buster Keaton also appearing in an uncredited role. Almost two decades earlier, Fred Astaire played himself in his very first onscreen appearance in Dancing Lady (1933) and three years before that another Fred, MGM movie director Fred Niblo, played himself in Free and Easy (1930).
But even that isn't the record! Spookily in 1912, back in the days when post-traumatic stress syndrome might earn you an hour off work, schoolgirl Dorothy Gibson played herself in the ten-minute film Saved from the Titanic. She wore the same clothes in which she was rescued in – just 29 days after its sinking!
You can't dispute this creation
was Clint Eastwood's decision to cast three US soldiers, who thwarted a terrorist attack on a French train in 2015, as themselves in The 15:17 to Paris (Netflix from Nov 7; 45 on Metacritic) any stranger?
In fact, Eastwood, who is rapidly becoming as prolific and inconsistent as fellow octogenarian Woody Allen, cast three other people as themselves: two other heroes on the day – a British IT consultant and a French-American professor who was shot in the back by the terrorist (not the same actor!) – and, perhaps most bizarrely, the professor's mother.
At a time when there's talk of virtual screen stars putting actors out of work, is Clint's recipe an even bigger threat? Well, the critics haven't been kind, with only 24 percent decreeing the movie passable on Rotten Tomatoes. Nevertheless, the recreation of the attack received plaudits – and the beauty with Netflix, compared to the cinema, is that you can fast-forward.
Has Vikings lost the plot?
Equally macabre real-life events left their mark on the making of S4 of Narcos (Netflix from Nov 16) when a location scout was killed while exploring a rural area outside Mexico City.
Having successfully switched from Escobar to the Cali cartel for an enjoyable S3, Narcos is heading north to tackle the Juarez Cartel – and quickly, it has to be said, at a time when most big series (a trend set by Westworld and copied by Game of Thrones) are no longer caving into the pressure to release a season every year.
Vikings (HBO Nordic from Nov 29) has a different strategy, as its next season is S5B – a trend set by the final bow of The Sopranos, but not copied … until now. It did the same with S4, so this coming season is actually its seventh. A S6 (8 and 9) has already been confirmed, and there is talk of a spinoff series, Valhalla, featuring backstories of characters killed off in seasons 1-5 (sorry, 1-7).
But do viewers want this … as one of its appeals is that gruesome characters meet deserving fates.Viewers don't want to see them living as immortals in a domain in which they can't be killed.
Thanks to its exciting action scenes and a bevvy of hunks and beauties, Vikings is understandably popular, but it shouldn't kid itself it is an all-time classic worthy of a spinoff (think Better Call Saul from Breaking Bad). It's not a patch on The Last Kingdom, of which S3 is being broadcast in the UK from November 18.
Among the other series returning over November are crap university drama Clique (S2; HBO Nordic; Nov 10), US anthology affair Room 104 (S2; HBO Nordic; Nov 10), US historical drama Frontier (S3; Netflix; Nov 23), and the final season of House of Cards (S6; Netflix; Nov 2 – 62 on Metacritic), with Kevin Spacey erased from everything bar two seconds of the S5 recap. If the first episode is anything to go by, it's failed to fill the 'spacey'. Presumably Christopher Plummer was too busy.
Never tiring of the Nazis
In The Sound of Music, Plummer was busy evading the Nazis, and the US soldier protagonists in zombie-World War II film Overlord (63; Nov 8) have the same problem – only this time, they're the undead.
It's funny how adaptable the Nazis are. From locating archaeological artefacts (Indiana Jones) and winning WWII and taking over the US (The Man in the High Castle), to settling in Argentina (recent Netflix release Operation Finale won't win any Oscars, but it's polished enough to be recommended) or outerspace (Iron Sky), there's no end to their talent for surviving. And this outing in post-D Day France is not even the first time they've turned up as cinematic zombies.
Fantastic Beasts: The Crimes of Grindelwand (Not Released Worldwide; Nov 15) has everything bar zombies, and that includes plenty of Harry Potter Universe references this time – particularly as Dumbledore (Jude Law) is one of the main characters. Continuity is assured thanks to director David Yates coming back for his sixth HPU film.
It will need to hit one out of the quidditch park to catch Widows (88; Nov 22) as the film of the month, a Steve McQueen-directed movie in which the wives of a gang of thieves (led by Viola Davis) complete 'the job' their husbands (led by Liam Neeson) were killed trying to pull off. McQueen has substituted the humour of most heist films with substance, and the applause has been loud both sides of the Atlantic.
The derision for Life Itself (21; Nov 22), from This Is Us creator Dan Fogelman, has been no less deafening. While the jury is out on the remake of Dario Argento's hallowed 1977 Italian horror Suspiria (67; Nov 15), which has so far escaped that special type of scorn reserved for remaking a classic film badly.
Will Chris do a Costner?
Over in Britain, they don't like Yanks coming over to play their heroes (think Kevin Costner as Robin of California), and Chris Pine is the latest to don some chainmail and a medieval beard, tighting up to play Robert the Bruce in Outlaw King (58; Netflix; Nov 9).
Orson Welles pulled off that trick, most notably as Falstaff in the excellent Chimes of Midnight, but he failed in his final hurrah, which was ironically a movie about an ageing director trying to complete his final film. They'll love me when I'm dead (81; Netflix; Nov 2) recalls the madness of it all.
Aspiring director Ben Stiller's prison breakout series Escape at Dannemora (HBO Nordic from Nov 19) stars Benicio del Toro, Patricia Arquette and Paul Dano in a love triangle. It sounds unconventional, but looks promising,
Also look out for UK dark comedy Sally4Ever (HBO Nordic, Nov 12), which is from the same creator as Nighty Night, and US dramedy series The Kominsky Method (Netflix, Nov 16) starring Alan Arkin and Michael Douglas.
The latter is set in the acting world, and features a regular in LA Law playing himself – neither for laughs nor because he is famous, proving it's as commonplace in Hollywood as drugs and nepotism.