News
Pub owners cautiously opening their doors, but were they safer shut?
---
This article is more than 3 years old.
An uncertain future lies ahead – particularly for small venues where restrictions will limit the number of drinkers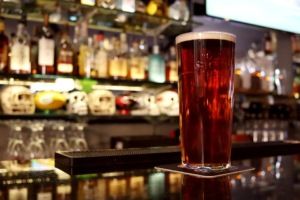 I miss going to the pub. 
I miss everything about it. The overweight landlord with the offensive moustache. The occasional good fight. The balding, middle-aged regular taking his usual place at the end of the bar who spends the evening shouting curse words at the wall. Even thinking about that musty carpet smell brings a tear to my eye. I miss sitting with my friends engaging in inane chit-chat, putting the world to rights. I miss enlightening them with another one of my failed Tinder dates whilst three pints down and overly emotional.
Ah, those were the days, but the reality is that these memories are in danger of remaining just that. Memories. 
The outbreak of COVID-19 has had a significant impact on everyone across the world, both personally and professionally. And the pub industry has not come out unscathed.
In fact, it has been hit hard. Going to the pub is one of – if not the – most social activities one can engage in during so-called 'normal times'. 
Some of our most-beloved drinking institutions are being forced to close their doors for good, whilst others are struggling to stay afloat as the punters stay away and the beer taps go dry.
No reward for craft
In particular, independent craft bars are more at risk than ever. With such a lengthy period without custom and less financial reserves to call on than some of the newer, bigger brewery bars, the threat of imminent closure hangs over many smaller venues. 
"In recent years the surge in brewery bars has squeezed the smaller, independent craft beer bars," contended Richard Darby, the owner of the Lord Nelson on Hyskenstræde in central Copenhagen, as well as the Gypsy Mermaid, which is moored near Nyhavn.  
"They have the financial advantage of cutting out the middleman."
From identifying new and interesting beers to supporting the smaller more up-and-coming microbreweries – of which some are now the biggest around – these smaller, independent venues have played a huge part in the so-called 'beer revolution' here in Denmark over recent years. The rise in brewery bars has provided customers with a wide variety of choice. This is not good news for everyone, however. 
"As a result, there are many bars to choose from," lamented Darby.
"And the worst hit by the lockdown would be the independent ones, which are run by people with a passion rather than those with external financial backers looking at the bottom line."
Accessible, but is it viable?
There is light at the end of the tunnel, however. Lockdown in Denmark is now beginning to ease. As of May 18, pubs and bars are finally due to open their doors once again for the first time since the start of the lockdown. It's a big sigh of relief for the bored beer-quenched customers, pub owners and staff – one and all desperate for a return to social and financial normality.
The reopening of these venues comes, of course, with restrictions. The number of customers and opening hours will likely be limited to some degree – the details of which are still yet to be confirmed. There is currently debate over social distancing within these venues – something that is a lot easier to accomodate for the bigger venues. However, it may not be possible for the smaller businesses to reopen.
"Ending the lockdown for small indoor bars and imposing social distancing rules may not be viable for us," conceded Darby. 
"I would prefer that these bars would only be allowed to open when it is safe to do so without limitation."
Hard to anticipate
Whilst the reopenings will come as a relief for many pubs and bars, some landlords are still wary.
"We don't know what is going to happen," mused Brian McKenna, landlord and owner of The Globe, an Irish pub on Nørregade in the city centre. 
"We don't know how people will be. Will they be cautious? It's tough to know. There could be a mad dash to begin with, but I don't expect that to continue. Maybe by September or October people will return to their normal routines, but it's hard to say."
Even with lockdown due to be lifted, it is still not a guarantee that all pubs will decide to open. High rents, maintenance costs and of course staff wages have put many venues in financial difficulty. Furthermore, when they closed their doors in March, they were forced to literally pour money down the drain with opened beer kegs and other stock that would not last. 
"People need to realise that we're running on a shoestring," explained Tim Tynan, the co-owner of Kennedy's Irish Bar on Gammel Kongevej in Vesterbro. 
"I think it'll actually be tougher to make ends meet when we open than it has been during lockdown. We won't be operating at capacity, so will it be worth opening at all? We will see how things go."
With the borders remaining firmly shut and live sport such as the Premier League currently on hiatus, it's understandable why the landlords aren't jumping for joy.
The usual influx of tourists to the city is something that many pubs rely on, and European football like the Premier League and the Champions League are a huge draw for punters everywhere. Without these two key elements, many pubs are missing a huge chunk of their usual revenue. As a result, there is still a big question mark over the future of the industry, with any return to the pre-coronavirus status quo potentially a long way down the road.
Mixed feelings 
The lockdown has not all been doom and gloom for the industry, however. The government has offered financial assistance to many businesses – some of which has enabled many bars to continue to operate. 
"We've sent staff home but they are still employed thanks to the government's rescue package," revealed Tynan. 
"It was difficult to get the money to come through, but we've got most of it now." 
In contrast, not everyone has been satisfied with the government's offer of financial assistance. Smaller businesses do not always meet the criteria required for funding, which has hurt some independent bars like the Lord Nelson.
"The announcements of financial help all sounded promising, but very little has been forthcoming,' noted Darby. 
"Furthermore the government has excluded owners from the furlough scheme, even if they are a full-time employee of the company, receiving salary and paying tax on it, which hurts the small businesses."
It's all down to the missus!
What does the future hold for the pub industry? Whether large or small venues, pub owners are looking to their regulars to stay loyal and keep frequenting their locals. 
"I hope that this crisis has made us all realise and appreciate how much we enjoy meeting up in these small independent beer bars, forgetting the daily fuss outside over a decent craft beer with good company," said Darby.
McKenna hopes his regulars return in their droves, but he does make a good observation: "Regulars can help by spending more money. However, there are only so many times your wife will let you out!!"
The man has a point. Though, to be fair, given the lack of freedoms we have endured over the last couple of months, I'm fairly certain that the majority of wives will be more than happy to see the back of their partners for a few evenings a week.
The reality is that the future is very uncertain for us all. The next few weeks could be pivotal for many pubs and bars across the city, as they wait and watch to see how Copenhagen's residents respond to their new social freedoms. I for one will be first in the queue.