News
Autumn weather to hit Denmark in earnest this week
---
This article is more than 3 years old.
Wind, rain and perhaps a bit of sunshine to follow what was a roller-coaster of a summer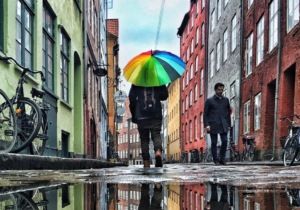 According to DMI, the national weather forecaster, Denmark can look forward to some proper autumn weather this week.
DMI's forecasts include plenty of wind and some rain, and perhaps even brief respites of sunshine.
"We're in for some average autumn weather this coming week, so it's about remembering rubber boots and rain clothes. But you might need some sunglasses too," Mette Zhang, a DMI meteorologist, told BT tabloid.
"It'll be more erratic, windy and wet autumn weather. That's the general picture nationwide for the rest of the week."
Temperatures are set to remain in the 15-18 degree region during daytime hours and around 11-14 degrees at night.
READ ALSO: Denmark worst on planet for Netflix in terms of value for money
Roller-coaster summer
DMI predicts there might be a few days of nice autumn weather starting from Sunday or early next week.
The news comes following a rather odd summer that afforded normal amounts of rain and sunshine, but in quite a rollercoaster manner. 
Both June and August ended up in the top 10 warmest summer months ever – August being the fifth-sunniest of its kind since 1920.
Meanwhile, July had the dubious honour of being the coldest in 22 years.