News
Danish PM laments harsh US election debate
---
This article is more than 3 years old.
Mette Frederiksen uses fiery Trump vs Biden drama as an example of how not to communicate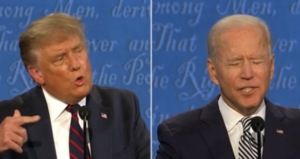 If you tuned in to the US presidential election debate last night, you were treated to everything from shouting and interruptions to crude language and straight-up insults.
And Denmark's PM Mette Frederiksen, for one, was clearly not impressed.
"An election debate last night in the US that was dominated by interruptions and arguments. That's not how it is in Denmark, and I hope it never will be," Frederiksen wrote on Facebook.
"Harsh words polarise and divide. Personally, I am concerned about the harsh tone here on social media. It would be good for democracy and coherence if we wrote to one another as we would speak face-to-face."
READ ALSO: Junk mail from the White House to form new art exhibition
"Exhausting shoutfest"
In a debate that has been criticised by many, moderator Chris Wallace seemed to give up at some points as the show morphed into a glorified schoolyard word brawl.
There was ample name-calling – including Biden calling Trump a clown and telling him to shut up following one of Trump's numerous interruptions.
CNN suggested that the debate  "did a deep disservice to democracy", while Fox News host Howard Kurtz described it as an "exhausting shoutfest".