News
Bizarre own goal ends FC Copenhagen's campaign in Europe
---
This article is more than 3 years old.
Elsewhere, FC Midtjylland were rewarded with Liverpool, Ajax and Atalanta in the Champions League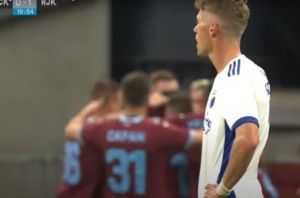 FC Copenhagen have crashed out of the Europa League following a lacklustre 0-1 loss at home to Croatian side Rijeka last night.
The deciding goal midway through the first half looked like something out of a Benny Hill sketch – surely one of the more bizarre own goals you'll ever see (check it out below).
The result means the Lions miss out on a European group stage for only the second time in 15 years.
READ ALSO: Howling in Herning: FC Midtjylland make history
FCM handed CL group
Meanwhile, fresh off reaching their first Champions League group stage in club history, FC Midtjylland were rewarded with a tasty draw.
As the sole Danish team remaining in Europe, FCM will face Premier League champions Liverpool, Dutch giants Ajax and Italian upstarts Atalanta in Group D.
The group stage will be played between October 9 and December 9.