News
DHL Run to return to celebrate landmark year
---
This article is more than 2 years old.
Many companies have already signed up to participate in the 40-year anniversary race in Copenhagen in the autumn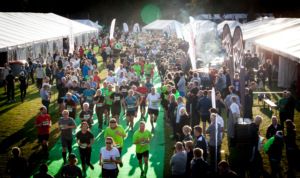 Last year, the COVID-19 pandemic put a stop to the immensely popular DHL Run. 
This year, however, the 5km relay race is back on track … at least for now.
Lots of companies have already signed up to participate – particularly in Copenhagen where the race is celebrating 40 years of existence.
In the capital, the race will be held in the city park Fælledparken from August 30 to September 3.
The run will also be held in Aarhus, Odense, Aalborg and Aabenraa.
READ ALSO: Copenhagen ranks fifth for happy, healthy lifestyles
Lace up the runners
The DHL Run allows companies and organisations to enter one or more five-member teams to run or walk the 5km (so 25 km per team) while grilling up loads of food.
"We are hopeful and in constant dialogue with the authorities, so we believe we have a better chance compared to last year. And we have even more time until August," Dorte Vibjerg, the head co-organiser in Copenhagen at Sparta Atletik & Løb.
Every year, over 6,000 companies and about 217,000 people participate in the DHL Run across the five cities.
DHL has been the event's main sponsor since 1991.