Special publications
English language skills a focus for CIS summer students
---
This article is more than 2 years old.
A choice of five programs for children aged 4-17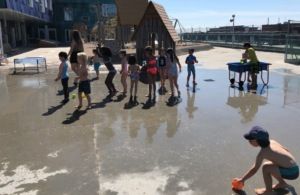 The Copenhagen International School (CIS) summer program is a unique opportunity for children to learn new skills while also developing their English-speaking ability in the company of experienced EAL (English as an Additional Language) teachers.
The school offers a wide variety of camps, providing a great opportunity for children to learn and improve their English whilst making new friends and staying active in a safe, positive, and creative environment.
The program is taught in English and open to all children. This includes children visiting Denmark and the Copenhagen area, as well as students from other schools who may not be exposed to lessons taught in English as often.
Camp combo options
Students can engage in learning, exploration, and adventure at any one of CIS's five summer camps: Activity Camp (ages 4-7), Art Camp (8-12), Rocket Lab (8-12), English Camp (ages 8-12 or 12-17).
All of the camps are available over the first two weeks of the summer break. Parents/students can choose between Week 1 (June 21-25), Week 2 (June 28-July 2), or both.
Fun and games
For the younger crowd, there is the Activity Camp, where children can enjoy music, play educational games, sometimes go on field trips, and work on hands-on projects like arts and crafts and gardening.
"Last year we had different teacher-led activities that we rotated: like face-painting or making play dough," says Activity Camp teacher Sarai.
"The kids were really happy, and the parents too. Danish parents are particularly excited that their kids get exposure to English."
Art attack
"All age levels within primary school love building things," says Fiona, who is a teacher at the Art Camp.
"I have never come across a child who hasn't been really engaged when we built something Picasso-inspired, like cubism – they are just cutting and gluing away! Clay is another great medium."
Aside from clay, young artists in the art camp also work with water colours, sketching, charcoal, pastels and more.
Rocketman!
Bring out your child's inner scientist in a class that explores Newton's laws of motion.
The experiments and simulations are designed to explore different scientific theories and laws.
Explosions, excitement and entertainment are guaranteed. For these rocketeers, and the possible fun at hand, the sky's the limit!
At ease with English
Who doesn't enjoy games, singing, conversation, art, reading, writing and sometimes even cooking – these EAL classes have them and more.
The classes are designed for learners new to the English language, or with some experience.
The experienced teachers instinctively know the best program to suit the needs of your child.