Things to do
Performance Events: Getting into bed with Berdal at Bøssehuset
---
This article is more than 2 years old.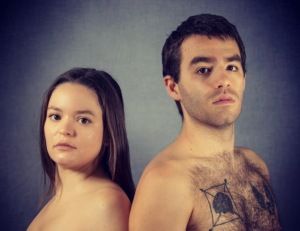 The two young protagonists of Riley McCarthy's Southern Bedfellows take us on a journey of discovery as their love blossoms – a bit like The Blue Lagoon, but non-binary, more armpit hair and more prom night than junior high.
Jody Fish, a revelation in HIT-Copenhagen's autumn play 'Harry Clarke', returns to Bøssehuset,  the scene of his triumph, with Annelise Nielsen, who despite her name is another highly promising fellow American actor.
And the coups don't stop there, as at the helm is Reumert-winning director Christoffer Berdal.
World premiere
See this play before anyone, as this is a world premiere that is set to play on stages all over the world after headlining HIT-Copenhagen's program at first CPH Stage and then Copenhagen 2021 in August.
"I think everybody has experienced there is a part of you that you are not secure about sharing with friends, family lovers or whoever,'' enthuses Berdal, and it's true, this play might be about a non-binary couple, but the themes are universal.
What it is to be human
Sparks fly when identities are challenged along with their willingness to love each other. Ultimately they come to appreciate what it is to be human.
"Young and old should all watch it together and see each others' reactions to it," advises Berdal.
"So we get a discussion between the different generations and learn from each other." (PW)
---
JOB – A simple man
May 27-June 2, times vary; Bådteatret, Nyhavn 16, Cph K; 160kr
A performance based on 'JOB – A Simple Man' by Joseph Roth, a landmark novel about migration during World War I. The play will be performed both in English and Danish, exploring issues such as national borders, immigration, what constitutes a safe haven and new culture. (ATW)
1984 – Back to No Future
May 27-30, times vary; Black/White, Staldgale 26-30, Cph V; 145kr
Inspired by – what else – George Orwell's classic '1984' (and also Marty McFly), in this dystopian play by the artist collective Gob Squad, the protagonists travel back in time to confront their own teenage-self amidst the media revolution of the time. (ATW)
Stalker
May 29-June 5, 20:00; TBC in Cph V; free adm
Enjoy a mysterious audio performance by Fix&Foxy at a secret place in Copenhagen where you will find yourself. The 'stalker' in your headphones will guide you to the right place: a room where all your dreams come true. There you will experience the deepest levels of your consciousness. (PW)
White Plague
June 3-5, 13:00, 15:00 & 17:30; Literaturhaus, Møllegade 7, Cph N; 135kr
An immersive, interactive, live experience combining storytelling with something that's very close to us: isolation and plague. Enter if you dare encounter unconventional experiences with your sight, sound and smell. (ATW)
The Rapture
June 3-5, 11:00; Literaturhaus, Møllegade 7, Cph N; 135kr
From the depth of her bathtub in Australia, the well-known environmental activist and burlesque performer Moira Finucane will stream live her solo work created during lockdown. Performed for HIT-Copenhagen's audience, this intimate session of Art vs Extinction highlights hopes, propaganda, extinction and Antarctic ice. (ATW)
Sun & Sea
May 29-June 1, 13:00, 14:00, 15:00, 16:00 & 17:00; Copenhagen Contemporary, Refshalevej 182; waiting list
This opera performance by Lithuanian artists Rugile Barzdžiukaitė, Vaiva Grainytė and Lina Lapelutė will take you to the beach to witness humorous, relevant depiction of the urgent issue of climate change. Discover why this opera won a Golden Lion at the 2019 Venice Biennale. (ATW)
The Shy Manifesto
June 3-5, 15:30, 17:30 & 11:30; Literaturhaus, Møllegade 7, Cph N; 135kr
The Shy Manifesto (see CPH POST review in link below) is a coming-of-age dark comedy that explores the life of a shy teenager surrounded by over-confident people in the social media age. Originally premiered in 2020, this monologue is one of five HIT-Copenhagen plays being staged this spring. (ATW)
READ MORE: Theatre Review: Who knew being British, or even shy, could be so much fun