News
Relocation Special: Living in these corona times
---
This article is more than 2 years old.
What does it mean to move to Denmark in the wake of the pandemic? The corona policy landscape is rapidly shifting but these bytes of information will guide you through.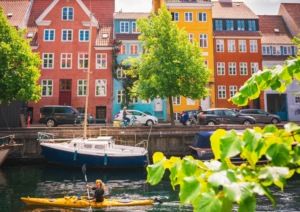 Hej, Relocator!
It's tough moving to a new country. Hell, it's tough moving to a new table in a restaurant when you've already got your starters. What do you bring? What do you leave behind?
You 2.0
At its most extreme, relocating is a factory reset of your life. You're purged of all routines – the useful as well as the superfluous. The parts of your identity that are tied to your routines are culled too. It's liberating and scary.
Stepping off the plane you're reborn like a phoenix – you're an enigma, a blank slate. No more cigarettes, no more hitting snooze. Maybe you'll start listening to jazz, drinking natural wine or blogging.
The boundless prospect is thrilling … but also exhausting. When you relocate it doesn't take long to realise that you are in fact not a completely new person. Modal jazz is just not that catchy and, well, blogging is lame.
Familiar feelings
As you begin to embed yourself in a new city, remnants of your old life resurface. You look for the familiar: you play your favourite radio show on your new commute and find a café that does poached eggs just like your old local.
Relocating isn't about being reborn. It's about fitting the old in with the new. That's why this issue of Relocation is packed with practical tips on getting set up in Denmark, along with guides on culture, hobbies and places to visit to satisfy both your sense of adventure and of belonging.
Plenty to chew on!
Feeling lost on your first day at the office? On page 8 we delve into the unwritten rules of the 'fællesskab' – the nebulous feeling of solidarity that acts as social glue in Danish society.
If you're ungainly on two wheels and view Danish bike lanes as narrow, high-speed corridors of death, then turn to page 16 for a roundup of cycling rules and contacts for adult bike classes. For those considering buying a car, there's handy information on tax and licensing in the same guide.
One of the greatest and simplest joys of travel is discovering new cuisines. Denmark is no France when it comes to plating up – in fact, the oddities of Danish gastronomy could fill an entire supplement. Read up on Denmark's food culture – the good, the bad and the ugly – on page 18.
Perhaps you really will be reborn in Denmark as a rugged Nordic hunter-gatherer: in that case you'll need some pointers on spearfishing, hunting, hiking and sailing in the Danish wilderness. Turn to page 20 to get in touch with your primal self.
There's plenty more to get your teeth into – tips on schooling, the job market, health system and making friends – so arm yourself with some basic knowledge and then go out there and get stuck in. Who knows, maybe you'll write a blog about it.
Check out our summer edition of Relocation here.
---
What's up, corona?
Many governments have talked about it, but Denmark – bureaucracy capital of the EU – is the first country in Europe to have successfully rolled out a corona-passport strategy.
The 'passport' is an app called Min Sundhed. All Danish residents with a CPR number and a yellow health card can access the platform, which holds a record of recent corona tests and their outcomes, vaccinations, and immunity. 
How does it work?
When you go for a test, the result is automatically uploaded. The queue for a quick-test takes around 20 minutes, a result will follow in half an hour and a negative Coronapas is valid for 72 hours.
Your passport grants you access to indoor dining and drinking, cinemas, galleries, museums, haircuts, massages and the like.
What's open?
Many workplaces are still operating remotely, but schools are back and adult education is operating at a 50 percent capacity. Bars, restaurants, cultural institutions, gyms and small businesses are open – but nightclubs and large capacity festivals are still on hold.
A handful of European countries are cautiously opening for travel, with varying degrees of quarantine-stringency on arrival. Visits abroad look to be possible in the summer, and with Ryanair re-establishing a flight base in Billund, opportunities for low-cost air travel from Denmark to EU destinations will expand in the coming season.
Getting the jab in Denmark
The Danish vaccination scheme garnered early praise for its rapid rollout but is falling behind its EU neighbours' as Johnson and Johnson and AstraZeneca have been slashed from the program.
Some policy flip-flopping ensued, putting the vaccination calendar into a state of flux. However, the latest Danish Health Authority estimates are that all eligible residents will have been offered the full vaccine by the end of August.
If everything goes to plan, June and July should see the first of the age groups 20-34 and 35-49 vaccinated – the final groups in the program.
A good time to move
Denmark has kept a lid on its infection rate for many months, executing one of the swiftest lockdown strategies in Europe, and it is enjoying a gradual reopening. It's a good time to relocate to Denmark.
The winter will undoubtedly see a surge in infection everywhere, but Danish health policy has adapted and innovated admirably so far. Newcomers to Denmark can rest assured that the Danish system errs on the side of caution when it comes to corona rules, and that living here – even under lockdown – is relatively easy.