News
Euro 2020 partner announces football treasure hunt in Copenhagen
---
This article is more than 2 years old.
Follow the clues and land yourself a collector's item ball courtesy of Gazprom this weekend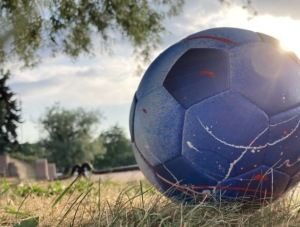 It will be Willy Wonka meets Pokemon Go this weekend in Copenhagen and the other ten hosts of Euro 2020: a treasure hunt for collector's item footballs used to make the digital trophy awarded to the scorer of the best goal at the tournament.
The 432 footballs, up until this week, made up the fragments of the art installation prototype of the NFT format trophy, which has been been created by Russian calligrafuturist Pokras Lampas based on a concept by official Euro 2020 partner Gazprom.
It's the first digital award in the history of world football to combine physical perception and digital technologies.
Upwards of 20 balls hidden in the undergrowth of the city
And now the public in the eleven co-hosting cities have a chance to pick up a piece of history, as the footballs used to make the trophy will be hidden in and around tourist attractions, popular leisure sites and sports facilities on the evening of Saturday July 10.
Disassembled from the art installation at the Gazprom booth in the St Petersburg football village on June 27, the 432 balls have been finding their way to locations in Amsterdam, Baku, Budapest, Bucharest, Glasgow, Copenhagen, London, Munich, Rome, St Petersburg and Seville.
To enter the treasure hunt, follow the clues on the Gazprom accounts @gazpromfootball, @gazpromphotos, @gazpromNewsEn, @gazpromarena, the Gazprom Programme "Football and Friendship" @footballforfriendship, Pokras Lampas – @pokraslampas, as well as the Lakhta Centre @lakhtacenter and Zenit Football Club @zenit_spb.
Part of the objet d'art could be yours
"Our project demonstrates the multi-disciplinary approach by today's artist, starting with a public art installation based on personally inscribed elements, the project is transformed into a technological digital token, in parallel telling the audience about work through content on social media. Then it returns to the street, now in the form of the component artefacts – the same footballs with which it all began!" explained Pokras Lampas
"At the same time, the possibility of part of the objet d'art coming, all of a sudden, into your possession and allowing the you to decide for yourself what to do with it next turns the spectator into a fully-pledged player in the project and links digital reality even more strongly with the material foundation of the work."
So what are your plans this weekend? With at least 20 footballs waiting to be discovered, your odds of finding one are significantly better than Charlie Bucket or Augustus Gloop's, and you won't need to eat a mountain of chocolate first!
And presumably prior experience of playing Pokemon Go will come in handy too. Happy hunting!