News
Loss to Scotland can't put a damper on magical year for Denmark
---
This article is more than 2 years old.
Thanks to harrowing lows and tantalising highs, 2021 has been the most memorable year for Danish football since 1992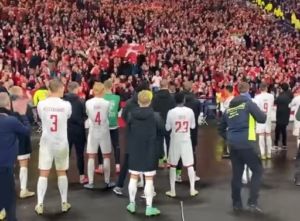 The 0-2 loss to Scotland in Glasgow last night ended Denmark's bid for a perfect 2022 World Cup qualification campaign.
Denmark had won all its nine previous games in Group F and another against the Scots would have been the first time a Danish team swept a qualification campaign.
But despite the defeat – Denmark had already qualified for Qatar 2022 and were missing a throng of players through injury – there is no denying that 2021 was arguably the most memorable year for Danish football since the legendary 1992 year.
"We have qualified for the World Cup, played a really good Euro and we've made it through some very difficult episodes as a team and nation," keeper Kasper Schmeichel, said according to MSN Sport.
"I'm left with a feeling that this has been a fantastic year for Danish football. It's a shame that it's over and it'll be a while before we see one another again."
READ ALSO: Hoop dreams come true: Community footy club ends 40 years of hurt
Quite the shutout run
Another potential record had also come undone a few nights earlier, when the Faroe Islands scored a late goal in Denmark's 3-1 win at home.
That was the first goal the Danes had conceded in qualification.
Before that Israel, Austria, Moldova (all home and away), the Faroes (away) and Scotland (home) had all been shutout and the Danes were closing in on the world record for consecutive shutout games.
But results aside, this year will be remembered in Denmark mostly for how the national team galvanised the nation.
Following Christian Eriksen's collapse in Parken Stadium in the first game of Euro 2020, the entire country and beyond rallied behind the team, helping guide them through a magical run to the semifinals.
READ ALSO: Great Danes qualify for 2022 World Cup in epic fashion
Hoping for Qatar
With the World Cup looming just a year away, the Danes hope they can keep the momentum going next year.
The loss to Scotland means that Denmark's chance to be seeded for the World Cup draw has been extinguished.
"We'll just have to draw Qatar," joked coach Kasper Hjulmand, referring to the host country being one of the top seeds.