News
First snow could be lingering on the horizon
---
This article is more than 2 years old.
Prognosis remains unclear, but there are more and more indications that the first flakes will fall at the end of next week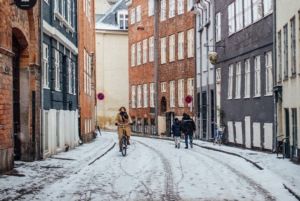 For those hankering for that winter wonderland feel, there is some good news coming from the meteorologists. 
Though the prognosis isn't completely clear, there are an increasing number of indicators that suggest the first snow of the year is just around the corner.
According to TV2's weather department, there is a 40 percent chance for the first flakes falling late next week: between Thursday and Saturday. 
READ ALSO: 2020 was the second-hottest in history
Later and later in the year
The prognosis considers snow to be a settling blanket, and not sleet that just melts away immediately. 
Normally by this time of year, the first snow will have already fallen – the average is on November 10 when considering the past 30 years. 
Denmark's climate has warmed up in recent years, and this has been a significant factor in the first snowfall occurring later and later in the year. 
For instance, the average day of the first snow from 1900-1973 was October 22.