News
Kyiv, not Kiev: Denmark changes its spelling of Ukrainian capital
---
This article is more than 1 year old.
In related news, the government moves to permit flagging of Ukrainian flag for the next two weeks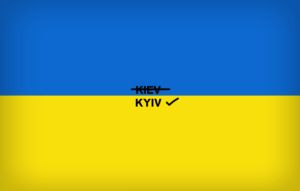 The government and a number of Danish media have changed its spelling of the Ukrainian capital from Kiev to Kyiv following new guidelines ushered in by the language council, Dansk Sprognævn.
The Foreign Ministry is among those adopting the change as it signals a small show of support to Ukraine in the wake of the invasion by the Kremlin. 
"We want to support Ukraine in every way we can," said foreign minister Jeppe Kofod. 
"Using the Ukrainian spelling 'Kyiv' will not stop Putin's appalling and illegal war. But it sends a signal of respect and solidarity to the Ukrainian people in this difficult time. They deserve to know that they are not alone in their fight for freedom."
READ ALSO: Danish foreign minister shares tweet of mass-walkout during Russian UN speech
Media on board
In recent days, the hashtag #KyivNotKiev has made the rounds on Twitter.
It was originally launched in 2014 when Russia annexed Crimea, but once again gained momentum again following the invasion last week. 
Several Danish media, including  DR, Børsen, Zetland, Jyllands-Posten and Politiken, have also adopted the new spelling. 
READ ALSO: Coop going the extra mile to help the Ukrainian people
Yellow and blue
In related news, Denmark could very well see a massive uptick in Ukrainian flags being hoisted in the coming days.
The government has announced that up until at least March 16, the public will be permitted to flag the Ukrainian flag.
Ordinarily, it's not allowed to hoist national flags other than the Danish flag without consent from the police.