Activities
Performance Preview: Different setting, but same high level of quality from playwright who knows his tech
---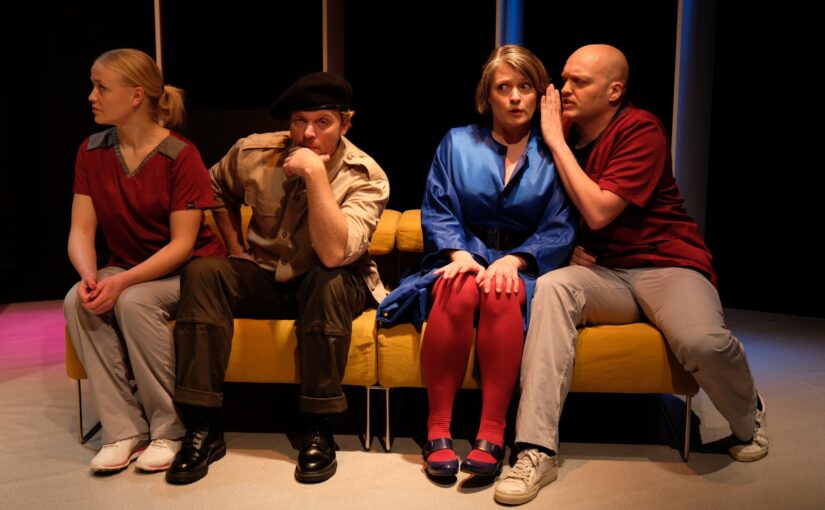 Not every story set on Mars is like 'War of the Worlds', the classic HG Wells novel written in the 1890s that changed the way we thought about Outer Space forever.
Granted, some are equally far-fetched, like 'Total Recall', while others are more realistic, like the recent Ridley Scott film 'The Martian'.
But rarely do we get kitchen sink dramas – there's something too dramatic about 'The Red Planet' to transpose our dreary Earth existence onto its Martian landscape.
Until now …
Month-long run starting tonight
In 'Same Shit, Different Planet', the final play of Fergal O'Byrne's trilogy especially written for That Theatre Company, the plot revolves around dentistry!
According to That Theatre, this is a "fast-paced and humorous look at the future – an emotional, funny, touching, quirky, robotic, thirsty, thought-provoking, dusty comedy".
Directed by That Theatre artistic director Ian Burns, the five-strong cast features regulars Katrin Weisser (God of Carnage) and Peter Vinding (Art), along with a number of fresh faces.
The intriguing play is touching down to Earth for a month-long run at Kruddtønden, which starts tonight and includes eight performances a week: five evenings, Monday to Friday 19:30, two matinees, 13:00 on Tuesday and Thursday, and a 17:00 show on Saturday.
Set almost 130 years in the future
Set in 2251 following the colonisation of Mars – so 12 years before 'The Fifth Element', 23 years before 'Logan's Run' and more or less the same time the USS Enterprise was being built – an unknown microbe is causing human teeth to decay at a fast rate.
This is possibly connected to a mandatory medication administered by the authorities to subdue a population where the number of dissenters is quickly growing.
"Can humans learn to trust other humans when they do not share the same history, identity or heritage?" ponders That Theatre.
It's a big question given that the participants in the War in Ukraine can tick all three boxes and still be at each other's throats.
Completing the arc of the trilogy
The first two instalments of O'Byrne's trilogy, 'Extremophiles' and 'Rub-A-Dub-Dub', were both set in the more immediate future, so this really feels like 'Same Shit, Different Planet' is completing an arc.
At its heart, the plays are about human relationships and why they are so essential to our survival as a species.
One of O'Byrne's specialities is how he manages to find optimism in the most unlikely of places.
A playwright who knows his tech
The other is his knowledge of technology – a field he has enjoyed a successful career in, starting two companies in his native Ireland. The sale of one of them enabled him to relocate to Copenhagen a few years ago to focus on his writing.
"I love technology. People regard me as a geek because my bedside reading would be a book about Mars, a book about the history of science, and a book about artificial intelligence," he told CPH POST.
"Technology features in all my writing: it makes sense since I am qualified in that field and can talk about it without having to either invent it or veer into non-factual information."
Reserve your tickets here.