Activities
KFTS – Holistic approach to teaching acting that provides a strong psychological grounding
---
Now in charge of Københavns Film & Teaterskole for ten years, British-Australian headteacher Stuart Lynch reflects on the changes he has made to the school's syllabus, which has just been certified a Degree Level Education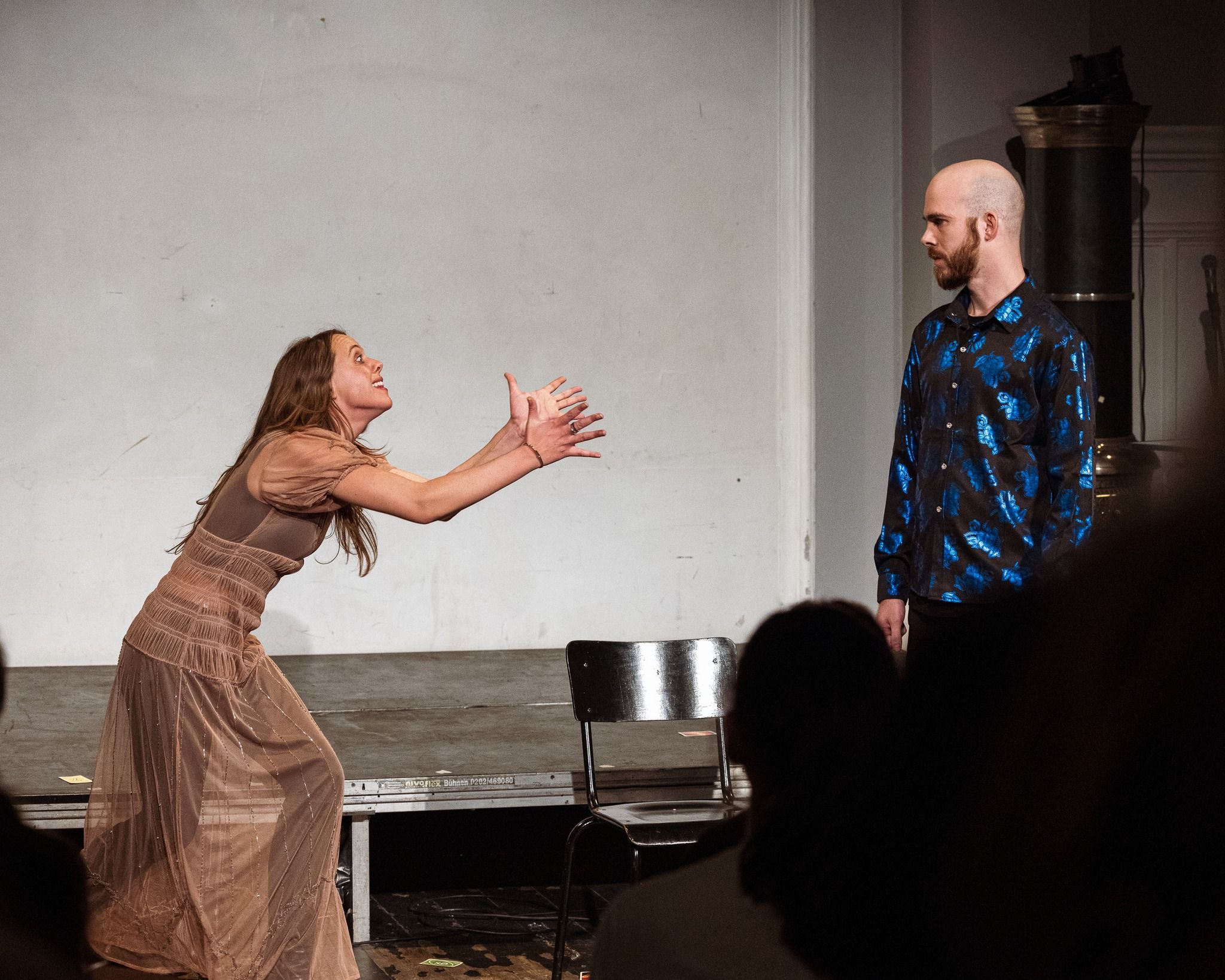 The secret to succeeding in Denmark is never telling anyone you're busy, confides Stuart Lynch, the indefatigable headteacher of KFTS (Københavns Film & Teaterskole/Copenhagen Film & Theatre School).
A resident of Copenhagen since the early 1990s, the appointment of the half-Australian, half-British theatre performer as the new headteacher of the prestigious school in February 2013 surprised many, but one decade later he continues to infuse KFTS with purpose and energy.
Not only does 2023 mark the tenth anniversary of his accession, but it also heralds a new era: for the first time in its history KFTS will be able to confer its graduates with a degree-level qualification.
It is testament to the sustained effort Lynch, aided by a team of hard working (but never busy!) teachers, has put into transforming a school with a "dangerous cult-like atmosphere", which he recalls was in a "dire situation" when he took over.
"It reminded me of my training in martial arts as a young man, and the uniforms favoured by the Samurai. The armour only worked when they were going forwards; turning around, they were unprotected, as there's no honour in retreat. I too had to jump in and never look back," he said.
Holistic approach
Established in 1995, and formerly called Holberg Film and Theatre School, KFTS moved from venue to venue, finally establishing itself in its current home, a former Nørrebro chocolate factory, in 2010.
Known as a Stanislavski school, it set itself as a viable alternative to the State Theatre School. However, it lost its way around 2011-12 and Lynch was headhunted to save the school from closure.
The curriculum was idiosyncratic, old-fashioned and lacked, according to Lynch, a holistic approach to the students' inner-selves.
"For instance The Method acting technique requires actors to draw upon authentic feelings for their performance by finding a character within their psyche, but it can be emotionally draining," he said.
"I saw the opportunity to introduce contemporary coaching into the school and provide the students with a strong psychological grounding to return to 'real life' after diving deep into an acting role."
Lynch has drawn on his expertise in philosophy, psychology and accreditations in cognitive behavioral therapy coaching and neuro linguistic programming.
"The big issue is when you try to go into some dark areas, you need tools, and if you don't have those tools, you can easily get carried away in the current. Becoming psychologically unstable is a big problem among actors," he contended.
Finding the right method
Equally important, according to Lynch, was to set up a framework to enable the students to connect with the method of acting that best suits them.
"Often it's lots of different components from different acting approaches or methods and styles, but some methods will leave students cold, so it's best if their learning is concentrated on others," he explained.
"Normally, there's one style that they connect to: whether it's a method with a more emotional background or action-based, so a more classical approach."
When Lynch started, he encountered "a lot of different methodologies taught by people who held strong ideas about acting, however idiosyncratic, based on no real pedagogic scientific experience".
What he felt the school needed was specialists within the methods. "If you want to study the technique of Meisner, you do it with a Meisner teacher etc," he reasoned.
"That way, a student, should they wish, can seamlessly resume their training in New York. But if the direction of the teaching is floating within notions of 'fusion', and poor teaching technique then it becomes problematic."
A business approach
Another major 2013 addition to the curriculum were business classes with the aim of empowering the students to really understand the inner machinations of the industry: from how to fundraise and apply for arts grants, to preferred methods for networking and making connections.
"We are creating individuals who are independent and self-confident, both in their personal manner and their ability to sell themselves in a manner that doesn't suggest they love themselves, but rather that they are in love with what they do. If you push yourself from the perspective of being passionate about your craft, then people love that kind of pushing," enthused Lynch.
Likewise, alongside a strong classical training, other performance skills less commonly associated with acting, but still relevant in Lynch's opinion, are prioritised, such as public speaking and body position training.
After all, not all the students will end up as actors, so it is important to facilitate them with skills that can make a big difference in a future career away from the stage.
"Ultimately, there's an awful lot of luck involved in being in the right place at the right time. Saying 'no' to going out for a drink – and then somebody else takes your place and gets the job. It's that type of life and you can't do anything about it," he ventured.
"So a lot of people end up in teaching or they use the acting in the business world, or therapy etc. But the basic fundamental techniques they learn, they will serve them well."
Strong international presence
Around a third of the 70 students at the school, at any given time, are internationals.
According to Lynch, it is invaluable for the Danes to mix with the internationals – and "they tend to work together a lot" during the first year.
"We've created a very welcoming place for whoever wants to be an actor because the truth of the matter is that a lot of actors have some kind of neuro divergence," he revealed.
"The atmosphere is facilitative but not hierarchical. The knowledge they acquire is mostly knowledge they discover for themselves. We try to open doors to ensure, for example, intersectional feminism is a part of the school without it being painted on the wall."
But the school is more forthright about the necessity to provide a safe place for all.
"It is particularly important in improvisation," continued Lynch.
"We have to have structures in place so that all the students feel safe. Whether it's people who feel they're being bullied; people who have had issues with their gender; people who are exploring their own identity."
STAFF
Stuart Lynch
Headteacher since 2013
British-Australian
The headmaster of Denmark's largest independent theatre school is also an acclaimed theatre director and dancer . Originally trained in sculpture, dance and psychology, his solo and directed works have toured extensively and internationally. His last scale work before his leadership role at KFTS was 'Dreyer, Den Danske Tyran', which opened CPH PIX in 2013. Read more at stuartlynch.dk.
Anders Glud Jensen
Teacher of method acting technique
Danish
For me, coming to class at the school and serving the students is a testament to both the industry I love so much and the mentors I have had so far. It is a privilege to come and train players of all ages who want to work, and who want the art. The actors come to train and to develop themselves. It's touching, and it offers hope. I love to share that place with them. It's important.
Barry McKenna
Teacher of Shakespeare
British
I have worked for KFTS now for over six years, ever since Stuart Lynch employed me to direct scenes from Shakespeare in honour of the Bard on his 400th Anniversary in 2016. It is wonderful to work in such an environment as KFTS. Every lesson, project and production is approached with such enthusiasm and professionalism. One feels such a positive support from all the staff and colleagues. Not to mention the serious attitude of the students, which can only be instilled by the permanent teachers and especially Stuart himself who keeps a pedagogic eye on all of his students. Both as teacher of the 1st years and director of the 3rd year Shakespeare showcase, I feel I have done some of my best work thanks to the quality of the students, the tech department, and the aforementioned support from the school.
STUDENTS
Troels Blaabjerg Schäfer
Second year student
Danish
KFTS for me was about finding my shelf in life. The school is filled with dedicated and talented teachers – all experts within their own fields. The school's great combination of different acting methods, skills and coaching helps me to excel and pivot into the world of acting. It is the first time in my life that I actually want to come to school!
Annamaria Hansen
Third year student
Danish
One of the most exciting experiences I have had at the school is with the life coaching that it offers the students. It teaches its students to safely explore their feelings and emotions and then to use them for acting. This aspect of the school not only assists in building your acting but also flows over and positively affects your 'daily life' as a working actor too. The open and welcoming nature of the school and its top class teachers bring alive the safest environment to explore, create and discover your potential as an actor from the perspective of multiple acting techniques.
GRADUATES
Natalia Ancinová
Graduated in 2022
Slovakian
It is crazy to realise that during one year with KFTS I experienced a bigger range of different acting techniques and methods than my fellow friends who studied at the state university of acting in my country. Needles to say, KFTS showed me how my state of being and acting arestrongly tied and how the statement "Let it go" can help in both aspects. As an overthinking woman, I consider it to be one of the best skills I could have possibly learned. But the best part about my year? As Michael Scott would say: "The people". Cliché, but my international friends who are all currently somewhere else, are my best best friends. They supported me not only in acting, but with my everyday problems.
Dawn Wall
Graduated in 2018
British
Being at the school for me was like a feeling of coming home to being surrounded by like-minded minds and the feeling that I could be myself for the first time in my life, even though I was in my early 30s. Attending KFTS was a gift and having internationally-renowned teachers and guest teachers, along with the access to both film and theatre, gave me the tools that I needed to succeed in my career. Read more at dawnwalldk.wixsite.com.